Taylor Swift Just Gave A Major Donation To A Fan Whose Mom Is Currently In A Coma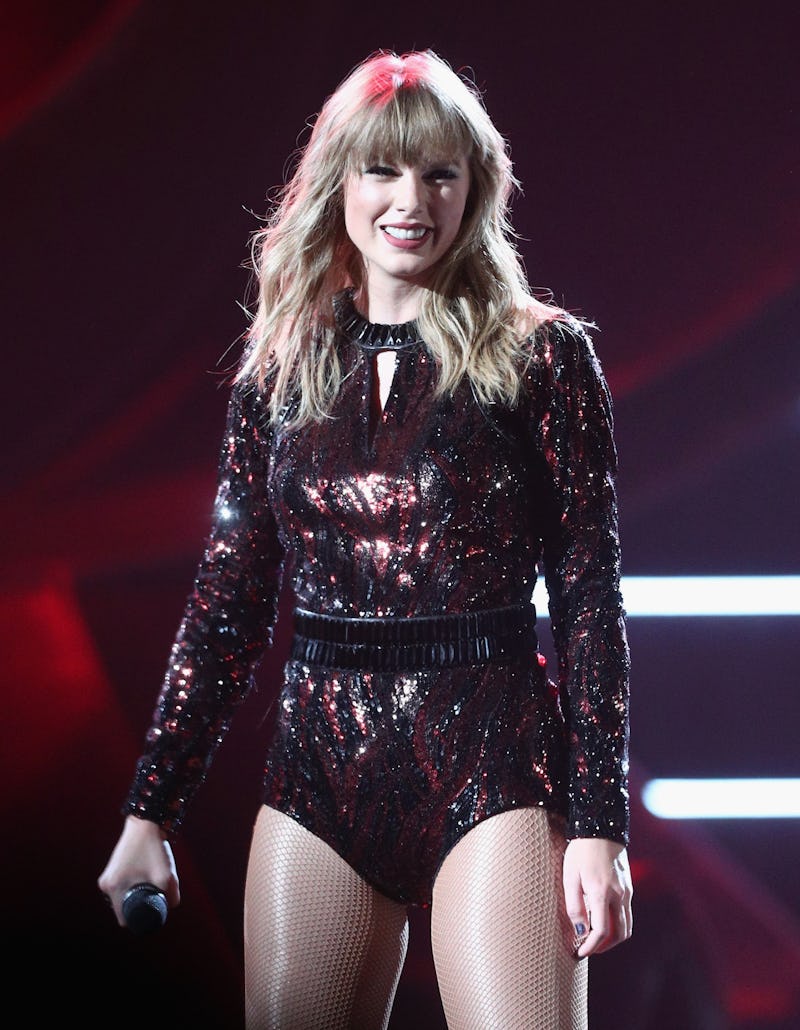 Frederick M. Brown/Getty Images Entertainment/Getty Images
Sometimes listening to songs by a certain artist can make a big difference during tough times. Earlier this month, a fan named Sadie Bartell tweeted a link to a GoFundMe page to raise money for her mom who's currently in a coma. She also shared that Taylor Swift's music has been "keeping [her] afloat" through it all. According to E! News, Swift saw the post and donated $15,500 to the fan and her family. Technically, it wasn't just the singer who donated, though. She actually signed the donation, "Love, Taylor, Meredith and Olivia Swift." (FYI, Meredith and Olivia are the Grammy winner's famous cats.)
On Oct. 1, Bartell tweeted,
"Hey guys. I'm really nervous to post this. Please help if you can and pray for my family. I'm sorry I never said anything sooner and that I'm suddenly asking for help. I love you guys so much."
She also attached four screenshots of iPhone notes with more information about her mother's condition and what she's been going through.
Bartell revealed in the post, "My mom has been in a coma for three years now. She had an ulcer that bled and lead to lack of oxygen to the brain which resulted in brain damage." She also shared, "We take care of her full time at home."
Bartell and her brother took on a lot to be there for their mother. In the series of screenshots, she explained, "My dad is unable to work because he has to always be with my Mom. My older brother and I have to provide for my family." That's a great deal of responsibility.
She even confessed, "My family is in trouble. We are in, I think, the worst place we've ever been in financially." Not only that, but they must be dealing with a lot emotionally.
For the record, Bartell didn't tag Swift in her tweet, and she didn't specifically ask her for a donation, but her lengthy post made it's way to the singer somehow. So how does the superstar factor into the family's situation? In that tweet, Bartell shared,
"She went into the coma two days before I saw the 1989 tour and I'm grateful to Taylor for keeping me afloat through it all."
Understandably, Bartell was elated by Swift's generosity and she couldn't help sharing her thoughts on Twitter. On Oct. 21, she shared a screenshot of her recent followers, and yes, that does include the singer. She wrote, "I think I'm dreaming."
No, it's not a dream — look what you made her do. Not only was this donation monetarily helpful, but Bartell tweeted that the songwriter's generosity also made her "feel so special and so cared about."
It isn't just the "Delicate" singer that cares about Bartell's family. Just scroll through the GoFundMe page to see all the self-proclaimed Swifties who also donated money. Not only that, but check out Bartell's tweets and replies and her Twitter likes. There are lot of tweeters going out of their way to show their support for her family during this time.
There's no doubt that this whole situation has made a profound impact on the superfan. She even revealed that she wants to name her future child after her favorite singer.
Aside from being very generous, the singer's donation is also symbolic. Swift's favorite number is "13," something that she has been very vocal about. It's very poetic that she ended up being the 113th donor. Is that a coincidence? Or did she watch the list of contributions until she had the chance to be 113? Either way, it's truly serendipitous and makes this even more special for Bartell.
Listening to Swift's music kept Bartell "afloat" while she has endured so much over the last few years. Now it's bound to have an even more profound effect on her. Bartell appreciates Swift's music, and Swift appreciates her. To say that she changed Bartell's life doesn't even do it justice.