Looks Like Taylor Swift Is At It Again With The Hidden Number Messages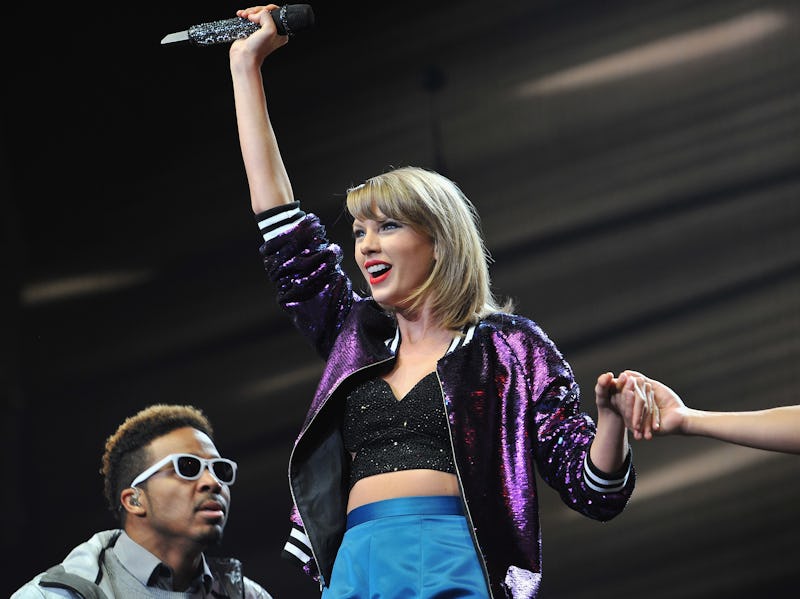 Fernando Leon/Getty Images Entertainment/Getty Images
It sure has been an exciting week for Swifties. First, after wiping her social media clean in time for the solar eclipse, Taylor Swift returned with a series of cryptic videos before announcing the release date of her new album, Reputation, and a new single set to be released on Thursday night, Aug. 24. Being that Swift is the type of person who is obsessed numbers — specifically the number 13 — fans quickly discovered what appear to be hidden messages in the dates of Taylor Swift's upcoming releases. Some might argue that these dates are just coincidences, but with Swift that seems quite unlikely.
You see, Swift has a history of incorporating numerology into her track listings, release dates, and social media activity. The singer, who was born on Dec. 13 and says that 13 is her lucky number, often hides the number 13 in random things she does. For example, two of her albums (Fearless and 1989) contained 13 songs. Fans also noticed that every time Swift praised a song on Instagram she shared a screenshot of the song at the 13 second mark. Pretty sneaky, right?
Well, it seems as though Swift has once again found a way to incorporate the number 13 into the launch of her newest musical era, and of course, Swifties were quick to take notice.
1. The Album Release Date
Let's start with the most obvious one, as plenty of fans have pointed out on Twitter, when you add up all the numbers in the Nov. 10, 2017 release date for Reputation, you get 13.
2. The Rumored Single Release Time
Swift's vague announcement on Wednesday that new music from her was coming Thursday night left many people wondering exactly when she's planning to drop her new single. Some fans are theorizing that the song will come out at one minute past midnight ET, or 12:01 a.m. Add up the 12 and the 01 and you've got 13
3. The Difference Between The Release & Announcement Days
This one might be a bit of a stretch, but with Swift fans it seems even the tiniest detail can't be ignored. As a Swiftie on Tumblr pointed out (via BuzzFeed) Swift announced her new music on Aug. 23, and Reputation will be released on Nov. 10. If you subtract 10 from 23, guess what — you get 13. Coincidence? I suspect not.
4. The Number Of Days Between Her Album Release Dates
Now this theory doesn't contain a 13, but it's still pretty interesting. According to BuzzFeed, the total number of days between the release of Swift's last album, 1989, and Reputation totals the same digits as Reputation's release date. Let's do the math to confirm: 1989 came out on Oct. 27, 2014 (seems like forever ago, doesn't it?), and Reputation is due to be released on Nov. 10, 2017. That's a difference of 1110 days, a number which bears a striking similarity to 11/10 — the numerical release date of Reputation.
If nothing else, these hidden number theories prove that fans of Swift are definitely excited about hearing new music from the superstar, and can you blame them? The build up to her single release has been pretty intense, and the world is clearly ready for new music from Swift.