Taylor Swift's 2007 Christmas Album Was The Ultimate Stocking Stuffer For Swifties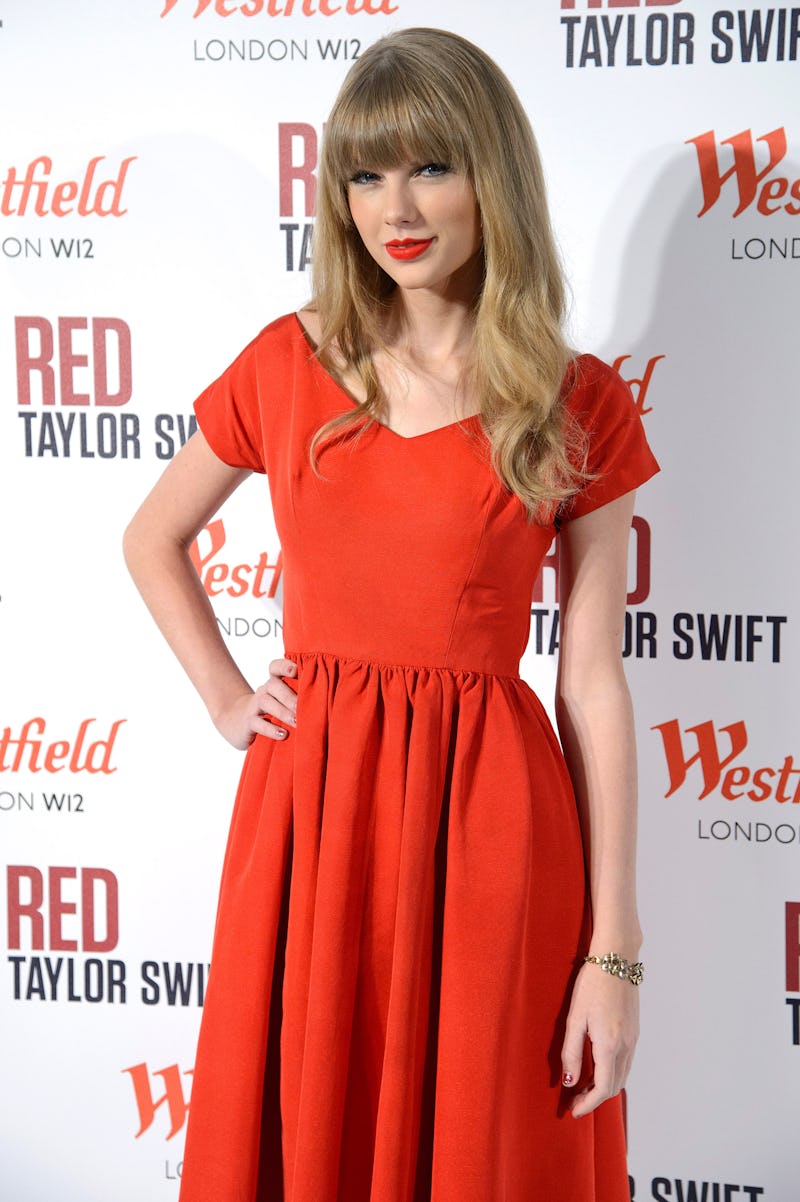 Ben A. Pruchnie/Getty Images Entertainment/Getty Images
It truly was the most wonderful time of the year for Taylor Swift fans when the Grammy winner dropped Sounds of the Season: The Taylor Swift Holiday Collection back in 2007. On her six-track Christmas EP — which was, at first, only available to buy at participating Target stores — Swift sleighed a reworked version of "Silent Night," along with two original songs: "Christmases When You Were Mine" and "Christmas Must Be Something More." (She re-released the album for wider distribution the following year, but dropped the "Sounds of the Season" precede.)
Of course, she didn't shy away from tradition completely though. A sweetly youthful-voiced Swift also lent her voice's slight twang to classics like "White Christmas," "Santa Baby," and the 1984 George Michael-penned Wham! holiday hit, "Last Christmas."
If you'd forgotten the now-10-time Grammy winner ever even forayed into Christmas music, there's likely a pretty good reason. At the time she dropped the project, Swift was riding the success of her self-titled 2006 debut album, but was still mostly known within the country music world hadn't yet reached the level of international superstardom she's since achieved. In fact, Big Machine Record didn't even spring for a new photo shoot for the album's cover art, instead simply using an image from Swift's "Teardrops on my Guitar" video.
Still, Swift deemed it super important to do something fresh for the holiday. "One of the things that when we went in to decide we were going to do a Christmas album, I was like 'well, there's got to be something really original or different about it or else there's no use doing it,'" Swift told Meredith Viera before her 2007 "Christmases When You Were Mine" Today show performance.
The then-18-year-old added to Viera of the original track she wrote:
"This song I think is really different because it's a different spin on a Christmas song. My favorite kind of thing to write about is, you know, heartbreak or something like that. And a lot of times at the holidays you're reminiscing about holidays past, maybe with people you're not around anymore. And so this song is really special to me."
The holidays in general have long seemed to be a special time for Swift, who even had a Christmas-themed birthday party in 2015.
"My number one excitement factor with Christmas is watching my family open up gifts," Swift told Southern Living in 2014. "I love searching for the perfect gift — and the perfect wrapping paper — for each person in my life. Some people are born to be excited about opening gifts, some people are born to be excited about giving gifts. The good thing about humanity is that we seem to balance out."
Her hunt for the "perfect wrapping paper" also balances out some other family members' more, uh, haphazard approach to gift presentation. "My brother [Austin] wrapped presents in the weirdest ways with like duct tape ... so I like to see the bad wrapping that happens in my family," Swift explained, adding that her family's holiday traditions also consist of opening presents on Christmas Eve and eating a big meal that includes a "turkey situation."
Whether or not you've heard Swift's holiday album, you may just want to give it a spin this Christmas and let the singer prove that sometimes good things really do come in small (CD-sized) packages.