Taylor Swift's New 'Vogue' Cover Looks Eerily Similar To An Old Taylor Photo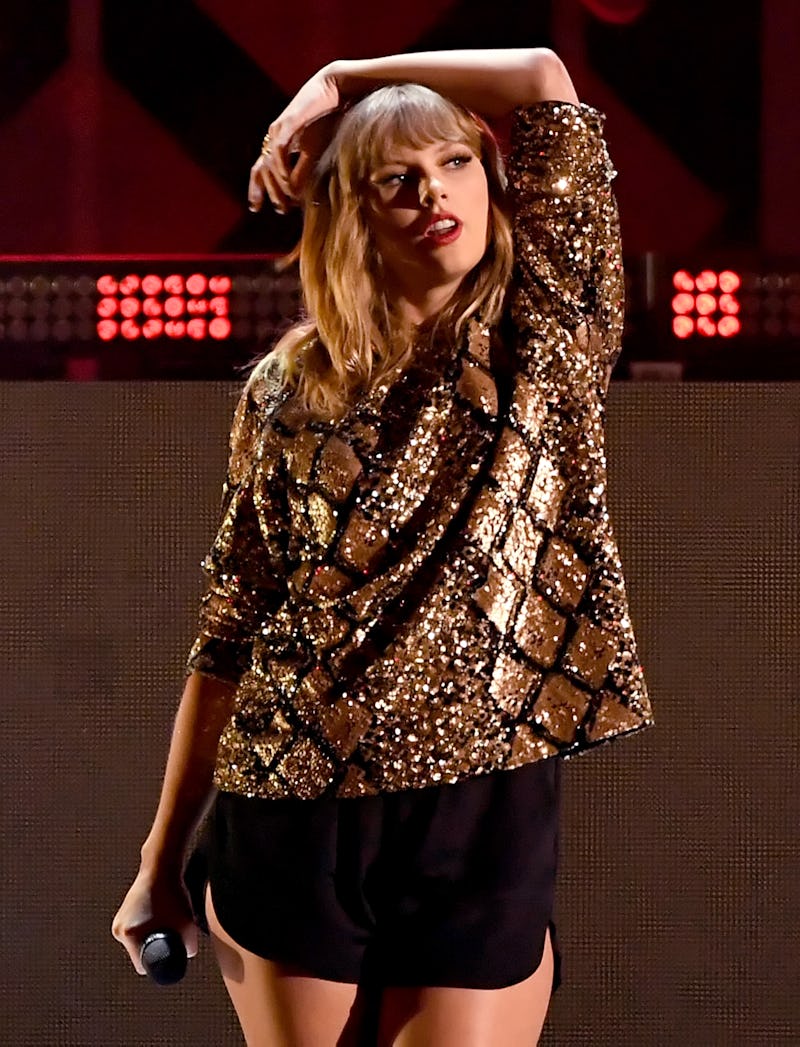 Kevin Winter/Getty Images Entertainment/Getty Images
Ever since Taylor Swift released her single "Look What You Made Me Do," fans have been dying to see what New Taylor is like. Apparently, New Taylor means slicked back hair and dark lipstick. Taylor Swift covers December's British Vogue, and fans are obsessed with the singer's seemingly new look. But it turns out the New Taylor is just Old Taylor, just in darker lipstick.
It has been quite the few months for Swift. She released her album Reputation, declared her old self dead, and has started over. But the Vogue photo, which was shot by Edward Enninful, shows Swift in an edgy red dress, with slicked back waves and a dark red lip. And it looks almost identical to one of her old album covers.
While her smokey eye and dark pout are different than her typical cherry red lipped look, this isn't too far away from her signature look. She also chose to skip the snake ring for her big shoot, thank goodness. It's not the first time she's gone edgy. Back in 2016, Swift went through a grunge phase after a photoshoot with Vogue editor Anna Wintour.
There's no doubt that Swift looks gorgeous on the cover. What is up for debate is whether or not this "Taylor Remade" is really that much different. Fans have pointed out that her British Vogue look seems eerily similar to her Speak Now album cover from 2010.
In fact, when you put see them right next to each other, her 2017 cover just looks like the grown-up version of her 2010 look. The dress style, hair, and makeup — besides the fact that the lipstick hue is a few shades darker — is all pretty darn similar.
It looks like the Old Taylor isn't dead after all. She just found a brand new attitude and sense of style.
Bottom line: Swift isn't as reinvented as she wants her fans to seem. She's just a compilation of all of her old selves made into an older, wiser version.
That doesn't mean that her fans don't love her British Vogue look though. Swift's fans are loving that Swift went a little more edgy with this look.
Caps lock is being used. I repeat, caps lock is being used.
Swift is all about every British these days. The men, the magazines... What's next?
The editor in chief of British Vogue doesn't get behind the camera for just anyone.
Swift has gone over to the dark side, which means her fans have as well. Time to bust out that Parseltongue.
While some fans are freaking out over the New Taylor's British Vogue cover, others really aren't sure what to think just yet.
Well, that's a take.
The emojis speak for themselves in this post.
Serving the looks.
All in all, edgy Swift isn't really a new thing. She's been rocking edgier fashion looks since 2016, and it looks like the trend is here to stay for a while. How long? No one really knows. Swift's style comes and goes in waves, so it's just a matter of time before she's back to her classic red-lipped phase.
Now all fans have to wait for is the interview...