Taylor Swift Hasn't Learned A Damn Thing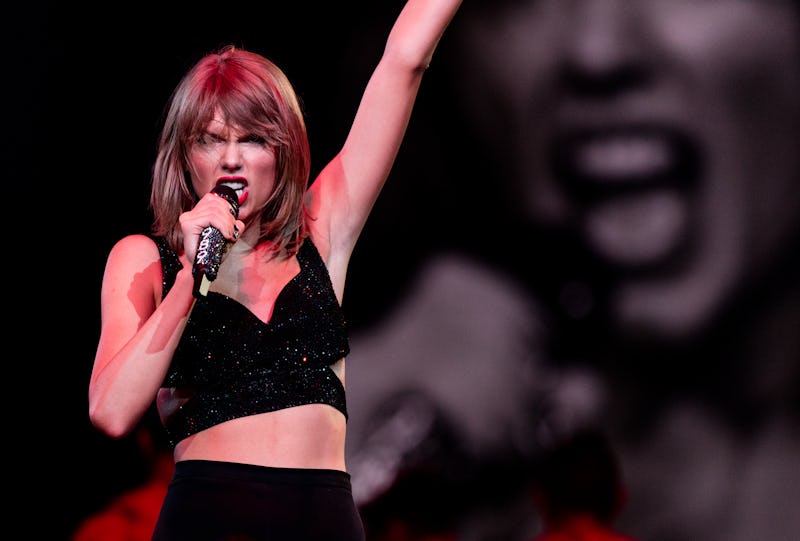 Christopher Polk/Getty Images Entertainment/Getty Images
In the three years since 1989 dropped, a lot has happened in Taylor Swift's life: She dated and broke up with Calvin Harris and Tom Hiddleston; feuded with Kimye and Katy Perry; and was called out for seemingly failing to support her own supposed feminist beliefs during the 2016 election. It's possible her new album, Reputation, will address some of those moments. It's also possible that Reputation could be Swift's apology album, a chance for her to address who she is — flaws and all — without placing the blame on anyone else. After all, Swift's been criticized for "playing the victim" in feuds with other celebrities, using her music to go after other artists who attack her good reputation. But Swift's new single "Look What You Made Me Do" isn't an apology to anyone, instead, she's up to her same old tricks, letting an enemy know karma is going to get them.
Already, fans have guessed that "Look What You Made Me Do" is about Kimye, and with lines like "I don't like your little games / Don't like your tilted stage," it's easy to see why. But, whether it's about them or not, listening to Swift's new track it's obvious she hasn't learned a damn thing from any of the "feuds" she's been a part of.
Swift has once again cast West as the villain in her story, using the experience to let the world know that despite this evil person trying to knock her down, she picked herself up.
The single offers up a new sound, one that is a bit darker than what we've previously heard from Swift. Only a bit darker, though, being that her meanest comeback is "I don't like you." The song's message is more reminiscent of "Shake It Off" than a solid diss track.
Here she sings, "Honey, I rose up from the dead, I do it all the time" without bothering to even question if she played a role. In her mind (at least in these lyrics that we've waited three years for), she is completely innocent, which is why she's more than happy to see this enemy of hers fall. In fact, she's counting on it because revenge is sweet and karma is real.
The world moves on, another day, another drama, drama
But not for me, not for me, all I think about is karma
And then the world moves on, but one thing's for sure
Maybe I got mine, but you'll all get yours
It's not a surprising take from Swift, who once sang "there's nothing I do better than revenge," but at this point it just feels old. This is how Swift always responds to criticism; she constantly pushes the narrative that something has been done to her. She is always the one being wronged. Even the chorus — "Look what you made me do" — tries to deflect the blame onto anyone else but herself through repetition, if nothing else.
"Look What You Made Me Do" is just another "poor me" song disguised as an empowerment anthem. But, there's nothing powerful about not knowing when to take responsibility for your actions. Sooner or later, it would be good for Swift to learn that. Who knows, it may even improve her reputation.