Taylor Swift Has A New Album Coming & It's Not Far Away At All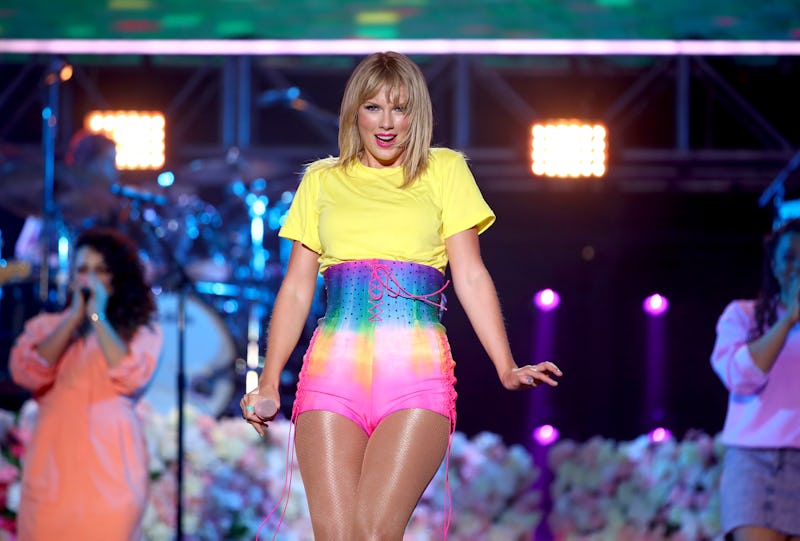 Rich Fury/Getty Images Entertainment/Getty Images
After a highly anticipated wait and some captivating social media clues, Swifties can rejoice. Taylor Swift just announced her album title and its release date via Instagram and IG Live on Thursday, June 13.
Swift's album Lover will be released on Aug. 23. The singer encouraged her fans to "Pre-add, pre-save, pre-order (all the pre stuff you feel like doing)." She concluded her post with, "Can't wait for you to hear this," a sentiment that her supporters can relate to since her last album, Reputation, was released in November 2017. It's been too long since she blessed the fandom with new content.
E! News shared more details on the "romantic album." There will be eighteen new songs. However, fans won't have to wait until August to hear all of them. Swift will drop a new single at midnight called "You Need To Calm Down." Not only that, but she will premiere the track's music video during the June 17 episode of Good Morning America and release it on YouTube right after.
The fans knew an album was on the way since Swift released the single "Me" featuring Panic! at the Disco's Brandon Urie on April 25.
A June 13 Entertainment Weekly article pointed out that the Aug. 23 release day is in line with Swift's brand since the numbers add up to her favorite number: thirteen. If one album isn't enough, there are actually four albums to get excited about. Well, not four completely different albums.
Entertainment Weekly reported that there will be four deluxe special editions of Lover, which will be available on Swift's official website and at Target. Each version will have two additional tracks that will "provide a glimpse into her songwriting process."
In a May 2018 interview with Entertainment Weekly, the "Me" singer discussed hint dropping to her loyal fans before she drops new music. She admitted, "I love that they like the cryptic hint-dropping. Because as long as they like it, I'll keep doing it. It's fun. It feels mischievous and playful."
They do seem to love it. Almost everything she says, does, posts, and wears gets analyzed by the Swifties. Nevertheless, that's not an accident. In May, Taylor confessed to Entertainment Weekly, "I've trained them to be that way." And she trained them well. No one anticipates new music with the same enthusiasm as a Taylor Swift Stan.
As exciting as the official announcement is, it wasn't exactly "shocking" to those who have been paying attention. Some fans even tweeted that the album's title was pretty much a given.
Other Swifties encouraged shared tweets to get #PreOrderLover trending, and to make sure the album is purchased, of course.
Even though Instagram went down right after the announcement, which may or may not be a coincidence, Twitter came through with a lot of love for Swift, on a world-wide scale at that.
For anyone who missed Swift's Instagram Live session because of the Instagram outage or if someone just wants to relive the moment, the entire thing is on YouTube.
That Instagram post was more than just an album announcement. The Taylor Swift fans are ready for an all new era of music and clue hunting.