Taylor Swift's 'Reputation' Was All About Stoking Drama. That's Not What We Needed In 2017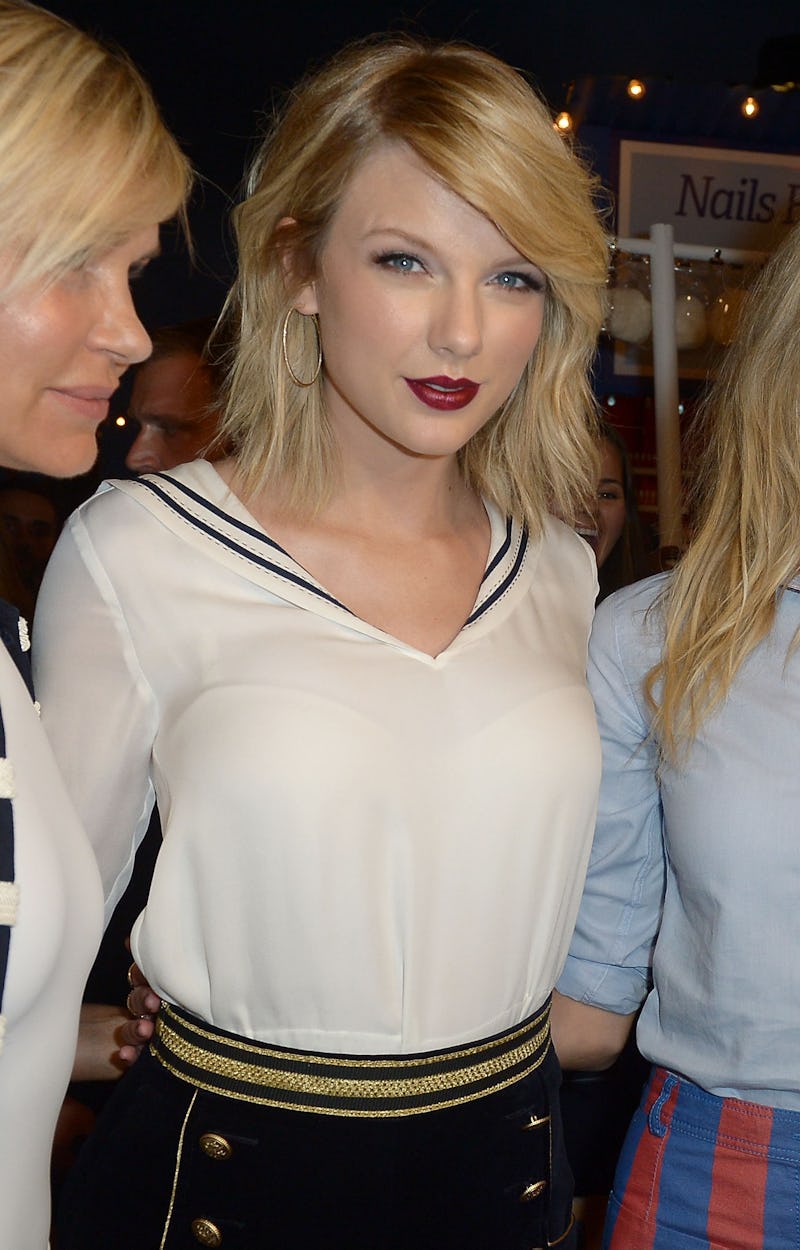 Gustavo Caballero/Getty Images Entertainment/Getty Images
The era of the New Taylor is officially upon us now that Swift's Reputation album has officially been released. The album has been on its way since mid-August, and several single and video releases later, we have yet again been the audience for the Taylor Swift show, a dizzying combination of publicity stunts and glossy videos all designed to provoke conversation. But Swift has been all but MIA from the media for a year now, ever since her infamous public battle with Kanye West over the "Famous" lyric controversy, which came to a head when Kim Kardashian released audio that seemed to prove Swift knew about the song at least in part, contrary to what she had been saying all along. But that was last summer, and Swift is responding to it now, in November 2017, when the news cycle has certifiably moved on.
Donald Trump, a reality TV show star, won the election and has implemented policies that target women's right to choose, transgender people, Muslims, the environment, and the list goes on. The year has seen some of the deadliest natural disasters and mass shootings of all time. In the past month, literally hundreds of people have begun coming forward with stories of horrible sexual assault at the hands of powerful men in the entertainment industry. The entertainment industry is now inextricable from politics, and many artists have kept pace with the shifting news cycle. By contrast, Swift's long and provocative album release invites speculation in remarkably petty (and entertaining) ways, and has tried to keep her music as exclusive as possible. The question remains, then: Is Swift still relevant in 2017?
The entire album's release has been one huge publicity stunt the likes of which someone with the fame of Swift does not need. From the very first moment back in August when she totally cleared out her Instagram and only posted photos of a snake, she was actively nodding to her checkered past with Kim Kardashian. When "Look What You Made Me Do" was released that month, Swift openly invited speculation by cramming as many suggestive symbols and explicit references to her past as she could into both the song and the video. She sings about West's "tilted stage," and dresses exactly like Katy Perry, who said many times she wanted peace. With Reputation, Swift promised an inside look at her recent feuding history.
One of the tracks off her new album, "This Is Why We Can't Have Nice Things," is perhaps the most explicit song about Kanye West. She references the famous 2009 VMAs incident — when Kanye interrupted her winner speech to declare that Beyoncé should have won — and then claims, "It was so nice being friends again/There I was giving you a second chance." She even references the famous phone call when she sings, "And therein lies the issue/Friends don't try to trick you/Get you on the phone and mind-twist you."
Some might call on Swift to be the bigger person — if she's so mad that Kimye made a private conversation public, then why would she bring it all up again? — but she's allowed to be mad. The bigger point is: Was anyone still thinking about this feud? It happened last summer, and, since then, we've undergone huge changes in the world. Swift keeping quiet about the entire thing for over a year made the whole thing go away, and the news cycle shifted in a way that makes her issues seem pretty irrelevant. And that irrelevance includes the hallmark of a Taylor Swift album — songs about her current and past relationships.
A lot of the tracks on the album, like "New Year's Day" and "Gorgeous," reference her current relationship with actor Joe Alwyn. It's classic Swift to write about her relationships — in fact, we have never heard her sing about much else — and we've become saturated with hearing about Swift's personal life. This is not to say there is an issue with it per se, but, six albums in, the same coy nods and not-so-subtle clues as to who she could be talking about are getting old. After all, this is the same Swift that had her then-boyfriend Tom Hiddleston wear an "I love T.S." shirt in front of all her friends (he told GQ in March 2017 that he chose to wear it as a joke); it is the same Swift who is now apparently alluding to the rumors that she cheated on Calvin Harris by framing it like revenge. She's certainly not shy about her love life, so why keep up this guessing game?
And the roll out of Reputation has certainly, in and of itself, had its fair share of drama. After a track list, and eventually the album leaked, Reputation hit iTunes and Target shelves at midnight on Friday morning. For now, Swift's album is being kept off all streaming services for an undetermined amount of time, meaning the only way to listen to Reputation is by buying a physical or digital copy. Swift has also partnered with Ticketmaster to create "Taylor Swift Tix," a new system to sell tour tickets that ostensibly ensures concert tickets end up in the hands of fans and not re-sellers or bots. The more fans participate in the program, the higher their chances of being able to buy a ticket when they become available (as of yet, dates of her tour, when tickets will become available, or how much they will cost have not been released).
But these actions involve purchasing up to 13 copies of her album or merchandise, including $50 T-shirts and $60 snake rings. The implication here is that only fans with deep pockets or who can take the time to complete the several tasks are the most valued fans, the ones who deserve to see her live. Even if that's not Swift's intention, that's a problem in 2017, as more and more people have access to Swift's music through the internet but might not have the money to buy merch and tour tickets.
She has also been holding Secret Sessions, in which she invites select fans to one of her many houses to listen to the entirety of the new album before it was released. Ideally, this is an incredibly nice way for Swift to honor her fans. But it also creates an unfair hierarchy. For example, "Gorgeous" opens with the voice of a baby. Fans quickly began theorizing as to who's voice that was, and Swift posted on Tumblr to help drive even more speculation. In response to a fan asking who the child might be, Swift wrote, "300 people know." The cryptic message could only refer to the 300 people she invited to her Secret Sessions, implying that only those who have been able to make it to one of her homes in London, Rhode Island, Los Angeles, or Nashville knew who the voice belonged to before the album came out.
While Swift's intentions with her tour announcement and social media posting could have been pure, the result is that she is actively manufacturing an unnecessary inequality within her fan base. The entire rollout of Reputation has been about exclusivity, whether it's in creating lyrics that only a select few will understand or literally determining who gets to listen and engage with the album. In the age of streaming platforms and social media, exclusivity feels like an archaic concept.
While such concepts might have worked in the past, the reality of 2017 is a much more socially conscious one. And yet Swift has found herself in opposition to the ACLU after the singer's team sent a cease and desist letter to a blogger who linked one of her singles to the alt-right, calling for Swift to denounce white supremacists. She claimed the blog post was defamatory, and the ACLU protected the blogger's freedom of speech. Swift has remained silent on the matter, which feels like a missed opportunity to take control of the narrative. She could easily denounce white supremacy while also supporting the ACLU, which has been instrumental in the dismantling of some of the Trump's administration's most controversial policies, including the travel ban.
It's true that Swift has often chosen to opt out of explicit discussions about politics, even remaining one of the few celebrities who still has not revealed who she voted for in 2016. Of course, conspiracy theories flourished. For someone like Swift who has proudly called herself a feminist, this particular election was an opportune time for her to prove she will stand up for her ideals, not just because a woman was on the ballot but because of Trump's horrendous attitude toward women in general.
But Swift has often refused to get into thornier issues of feminism, which has led many to question her authenticity. She has also always faced criticism for seemingly not subscribing to an intersectional kind of feminism, seemingly only upholding the values of white women who fit a certain look. None of this is to say that those criticisms are true, but her continued silence speaks volumes in a time when everyone is starting to speak up more than ever.
Swift has always been unafraid to speak out about her life, but this is a time in which her voice and platform could effect great change on a number of social issues. Instead, she's using her fame to bring up a fight between three rich celebrities from over a year ago and stoking drama in her fan base by rewarding certain fans and not others. Of course, it is Swift's prerogative to choose whether or not she wants to get involved in the issues of our time. But that means it's also our collective prerogative to decide whether or not we still want to pay attention to her when there are bigger issues at hand.