How Taylor Swift, Britney Spears & More Used One Song To Make An Epic Comeback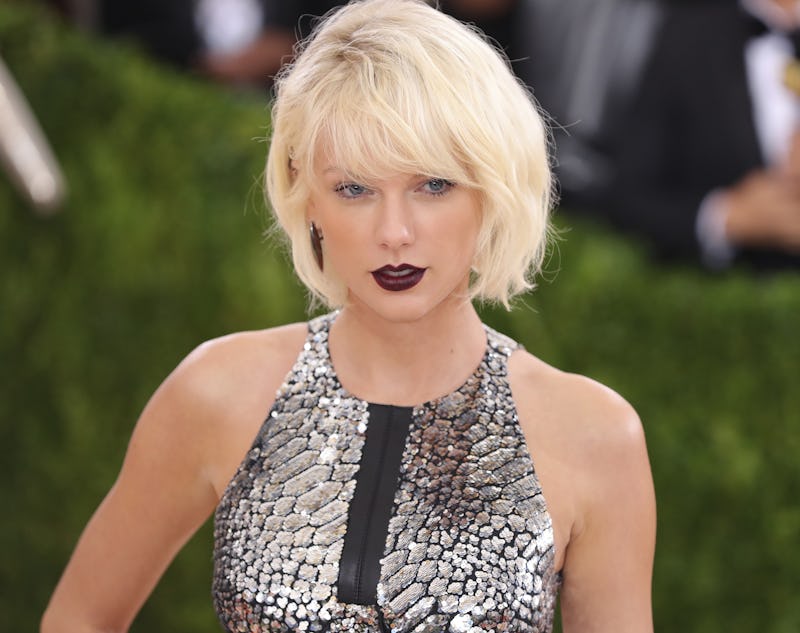 Neilson Barnard/Getty Images Entertainment/Getty Images
A good comeback can do quite a lot for a career on the wane. In the case of some female pop stars, a good comeback song can not only usher in a new era, it can reset the public's perception of who they are as a person and an artist. With Taylor Swift having released her first new song in nearly three years, she joins a long succession of female pop stars who have made a comeback following a noticeable absence from the public eye through the use of one epic song.
Female pop stars have been reinventing their image and their sound for decades now. As part of the constant accessibility that is required (albeit, in an unspoken manner) for female pop stars in maintaining a connection with their audience, there is a similarly unspoken pressure to maintain freshness or relevancy. If you can find a way to reinvent yourself, you can sustain your popularity and credibility. As a female pop star, it's not simply enough for you to come back — what is the one fresh thing you're bringing to the table? A revamped image? A new sound? The comeback is important and the song is what will herald their comeback to the world, as these stars — and now Swift — have shown.
Cher
Cher, known mostly in her gentle '70s pop incarnation as one-half of Sonny and Cher, burst out of that shell in the '80s with the "If I Could Turn Back Time"-phase of her career. As she separated from Sonny Bono, we saw her come back into popularity on her own terms. She not only had her hit song, "If I Could Turn Back Time," but she was acting, in Moonstruck, Mermaids, The Witches of Eastwick. She was doing it all and we loved her for it.
Madonna
Madonna did a similar image and sound overhaul when she released Confessions on the Dance Floor in 2005. The lead single off of the album, "Hung Up," was retro enough to reel in her older fans while the electro-heavy dancefloor beat kept the younger ones hitting "repeat." She managed to reintroduce herself to those who had missed her since she released American Life in 2003 to a quieter reception.
Britney Spears
Spears has followed in the mold of Madonna and Cher and is perhaps the most noteworthy of the female pop stars who staged huge comebacks because the stakes for her comeback success were incredibly high. Following a very public breakdown, rumors of drug use, a divorce — not to mention the critical and commercial failure of 2007's Blackout and an equally cringeworthy VMAs performance — Spears was in need of a huge return. The '90s pop princess managed to do that with Circus in 2008, and effectively brought in a new era of her career, leading her to the Las Vegas residency she has today.
Adele
Adele's comeback came after the massive success of her first album, 19. She had ridden an incredible wave of success with 19 and became one of the most notable British artists bursting forth on the scene in the late '00s. Considering this breakout success, Adele took time to herself. Recharging, she returned with "Hello," first airing a teaser for the song during the UK singing competition The X Factor, before premiering the video in 2015.
Pink
Pink has recently made a comeback with her song "What About Us." She's been away from the public eye for a hot, hot minute. Her last album, The Truth About Love, was released in 2012 and in the time since, she has chosen to devote her time to her family. That's obviously fine, but it's still good to have our power pop star back with a song as meaningful and politically-charged as "What About Us."
Taylor Swift
To say Swift's return has been eagerly awaited by fans and curious onlookers alike would be an understatement. In the wake of 1989's release, she dutifully released singles like "Bad Blood," "Blank Space," "Wildest Dreams," and "Style" with videos to go along with it. She also had high-profile romances with actor Tom Hiddleston and musician Calvin Harris. She had a very public and terse non-confrontation with Kanye West and Kim Kardashian over a long-simmering feud that dates back to the 2009 VMAs. With the first single, "Look What You Made Me Do," to go on, it appears that Reputation will comment on the way she's been treated by the press and her foes since 2014 for all her highs and lows and in-between moments.
We may not be sure exactly what Swfit will bring to the table in this new era of her career, but that doesn't mean it's not as exciting as the other female pop stars who have come back before her in as big a way.