Here's When Taylor Swift's 'Reputation' Tour Dates Might Finally Be Announced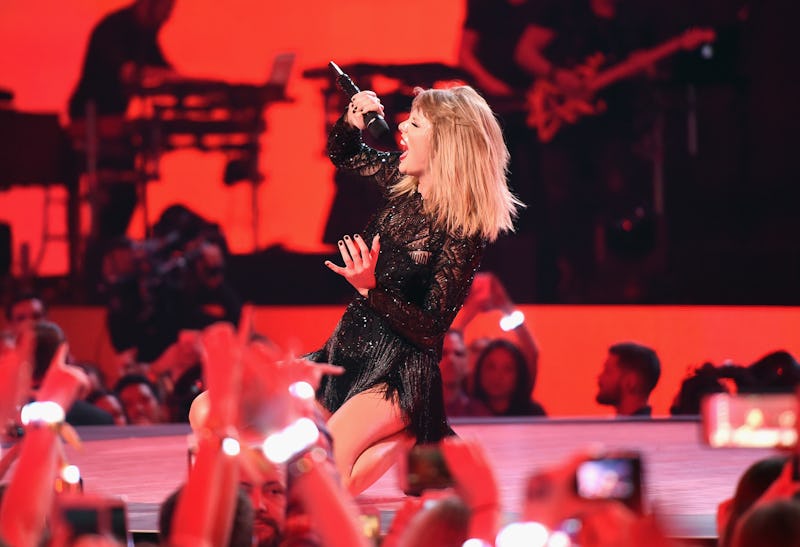 Kevin Winter/Getty Images Entertainment/Getty Images
The singles keep coming, and the excitement keeps building. So, when is Taylor Swift's Reputation Tour? No official Reputation Tour dates have been announced yet — but there are plenty of rumors. According to a tweet from gossip blogger Perez Hilton, he has heard the blonde "may announce tour and album bundle this Wed/Thursday," which he argues would make sense since it would lead to incredible sales.
Update: On Monday, Nov. 13, Swift announced "The first round of dates" for her reputation Stadium Tour. She also stated that dates are forthcoming for "the United Kingdom, Ireland, Australia & New Zealand."
Earlier: The Sun claims that those who pre-order her new album Reputation are more likely to get access to pre-sale tickets. This might also explain the star's Taylor Swift Tix partnership with Ticketmaster Verified Fan, which the FAQs claim was created "to help YOU get the best access to tickets in North America, in a really fun way" and involves fans improving their chance of scoring a ticket via "participating in activities until registration closes November 28. 2017."
However, the reality seems, well, a touch less fun. From the looks of the Ticketmaster video, it looks like a profoundly cynical approach to separating the true fans from the bots. You're encouraged not just to write social media posts about the star and watch her videos, but also to put your money where your mouth is. That means not just buying the album, but also investing in merchandise to get a better place in the queue.
And as Consequence of Sound have reported, things get even more depressing if fans want to ensure they're guaranteed to receive the new Swift record on the same day it's released, with Swifties being asked "fork over an extra $48.03 to ensure timely shipping," bringing the price of just one album to $63.03. Arguably, this partnership poses the strongest argument that we're getting a tour, since it suggests it'll be wildly profitable for the star, with fans shelling out not just for tickets, but almost anything with Swift's name on it.
Still, there are other clues that a Reputation tour could be forthcoming. If we look to the star's history, it seems close to certain that there will be a tour, given that she's releasing an album. Sure, there was no headlining tour for Swift's 2006 self-titled debut album, just a tour playing the support act for Brad Paisley, according to Entertainment Weekly. But, according to CMT, the singer got to headline on her Fearless Tour in 2009 to commemorate the 2008 album of the same name, during which she toured the United States and Canada over six months. After her Speak Now album dropped in 2010, according to Rolling Stone Swift went on a national tour in 2011.
There was her 2013 tour following her 2012 album Red (a 58 date tour across North America and Canada, according to The Hollywood Reporter), and, according to Billboard, a world tour to support her 1989 release in 2015, which the Los Angeles Times claims was the highest grossing tour of 2015. So there's a pretty clear pattern here: most of the time, she tours in the year following an album. If Swift's concerts are on schedule, then we'd be looking at a 2018 tour following the November drop.
The 27-year-old has always implied she's all about her fans. Seventeen has previously reported on Swift spending Valentine's Day with a fan baking cookies and singing songs; BuzzFeed has reported on Swift sending a fan money to help pay off her student debt; and The Telegraph reported on Swiftmas, when she sent her fans presents. But with the ambiguity surrounding both the dates of a Reputation tour and how to score tickets, for the first time, it's hard to feel like the singer really is putting her fans first. Here's hoping that the Old Taylor isn't dead after all. It seemed easier to get tickets to her tours.