Taylor Swift May Be Touring Faster Than You Can Say "Look What You Made Me Do"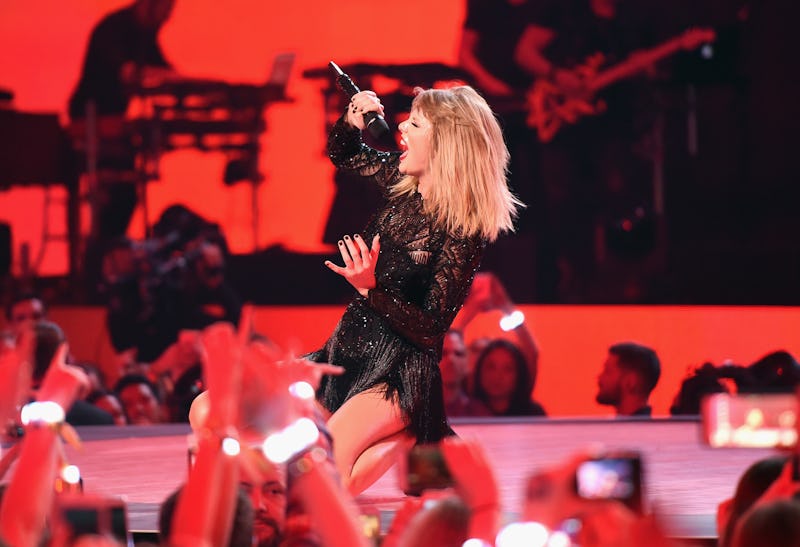 Kevin Winter/Getty Images Entertainment/Getty Images
It's here, everyone: the new era of Taylor Swift. On Thursday night, Swift's new single, "Look What You Made Me Do" dropped, and the internet is freaking out. But don't let the new single distract you — it looks like there's some other pretty big news that got buried in all that excitement. Like whether or not Swift will tour in 2017 for Reputation? According to her Twitter, it seems like that could be one of the next announcements she's about to share with her fans.
As soon as the song went live, Swift's account tweeted out a link to preorder Reputation ahead of its November 10 release... followed by a casual, "merch & ticket info" mention. Wait, tickets? To a tour? That hasn't previously been announced? That's a big deal, especially since this is information that could be easily missed, but it does look like concerts are happening.
When you follow the tweet's instructions and head to Swift's website, you have the option of signing up to be a Verified Fan with Ticketmaster, a service plenty of artists have been using lately to keep their tickets in the hands of fans rather than scalpers. Register, choose your city, and you're good to go.
But tickets themselves aren't yet available to anyone, even those who sign up, so it seems like the actual tour information is a while off. After signing up, you should receive an email from Ticketmaster that says being a Verified Fan qualifies you for a pre-sale code after earning points by completing tasks through Swift's website, and the period for that closes on November 28, so fans have awhile to save up for seats to Swift's concerts.
The tasks include doing things like buying Reputation-branded merch, preordering the album, promoting Swift's new music on social media, and watching the "Look What You Made Me Do" lyric video on repeat. Earning points gets fans higher up on the priority list to get that pre-sale code, so it's not a bad way to pass the time from now until Reputation is released if you're determined to score tickets when they eventually go on sale.
The old Taylor can't come to the phone right now, but the new one is probably planning an insane tour at this very minute. And when the time comes to let the rest of us in on it, she better make a more epic announcement than a tiny side note in a tweet about something else.