Taylor Swift Just Released An Unapologetic Anthem Calling Out Society's Double Standards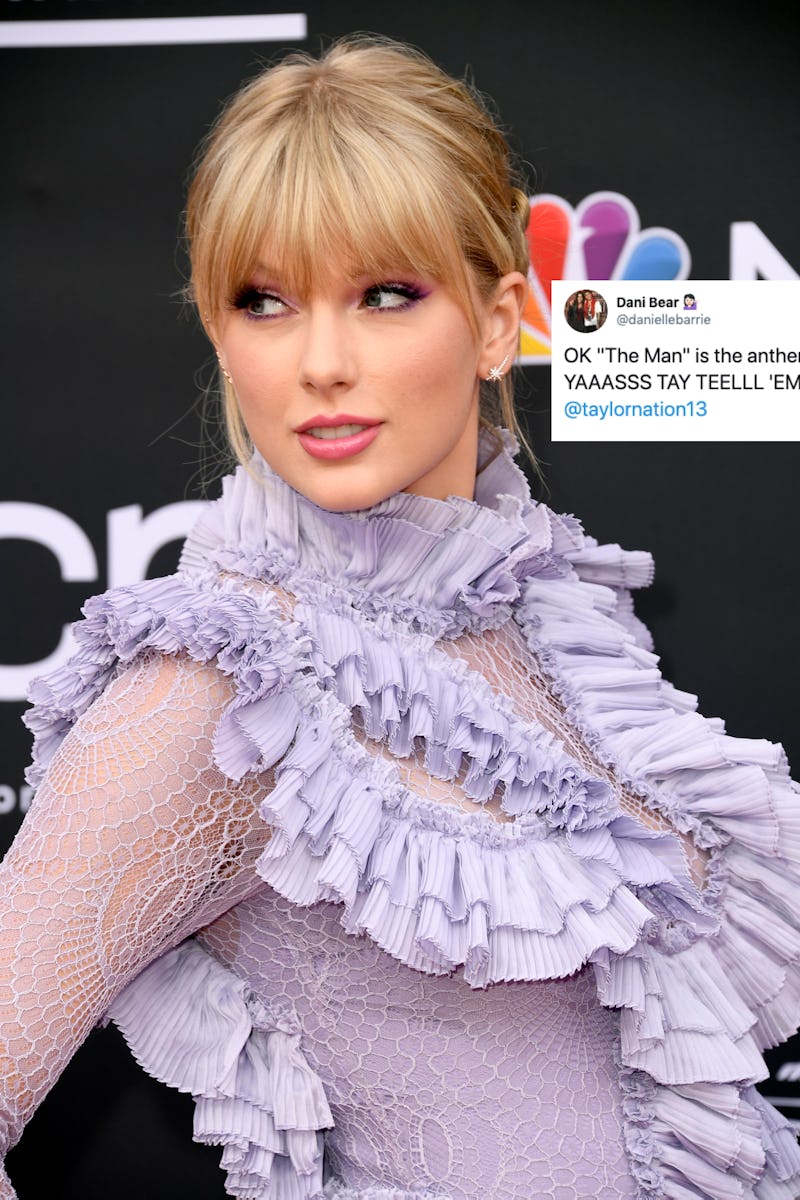 Frazer Harrison/Getty Images Entertainment/Getty Images; daniellebarrie/Twitter
As soon as Taylor Swift's new album dropped at midnight on Friday, fans immediately pushed play and analyzed every lyric. And there's one song that contains a very strong message: Swift's "The Man" lyrics are all about blatant double standards rooted in sexism. Of course, fans are totally here for the unapologetic anthem.
The song's takeaway is especially clear in the chorus:
"I'm so sick of running as fast as I can
Wondering if I'd get there quicker if I was a man
And I'm so sick of them coming at me again
'Cause if I was a man, then I'd be the man"
She also hypothesizes that if she was a guy, "They'd say I hustled, put in the work / They wouldn't shake their heads and question how much of this I deserve / What I was wearing, if I was rude / Could all be separated from my good ideas and power moves."
While that set of lyrics highlights a range of double standards that plenty of women know all too well, it's easy to wonder if this also is a nod to the whole Scooter Braun and Scott Borchetta debacle, where after Braun bought the rights to Swift's old music, she deemed it the "worst case scenario." As Swift wrote on Tumblr in an open letter back in June, "For years I asked, pleaded for a chance to own my work," which also could tie back into the lyric about people who "question how much of this I deserve."
Of course, the lyrics could also just be a general clapback to her critics, especially anyone who may underestimate her based on her sex. And that is a message that fans wholeheartedly support.
While the Braun/Borchetta reference is debatable, there's one clear call-out on the song. Swift name-drops Leonardo DiCaprio and his go-to getaway location as she points out a Hollywood hypocrisy, where men are seemingly applauded for their love lives, and she's long-been joked about for singing about exes. She sings, "And they would toast to me, oh, let the players play / I'd be just like Leo in Saint Tropez."
While that's the only DiCaprio-specific line, that theme of men getting away with more in Hollywood continues later in the song:
"What's it like to brag about drinking and dollars
And getting b*tches and models?
And it's all good if you're bad
And it's OK if you're mad
If I was out flashing my dollars,
I'd be a b*tch not a baller
They'd paint me out to be bad
So, it's OK that I'm mad"
As Swift says herself, it's totally OK that she's frustrated and angry by this. Those are normal human emotions to experience, and it's ridiculous that oftentimes when women express those feelings, they get criticized or deemed "b*tchy" for it. The lyrics capture that perfectly.
Based on all the tweets about the track, clearly fans can relate to Swift calling it like she sees it. And now so many of us have a new go-to song to listen to for getting any similar frustrations out.