'BiP' Clearly Doesn't Care About Spoilers, So Now You Can Check Out This Couple's Engagement Ring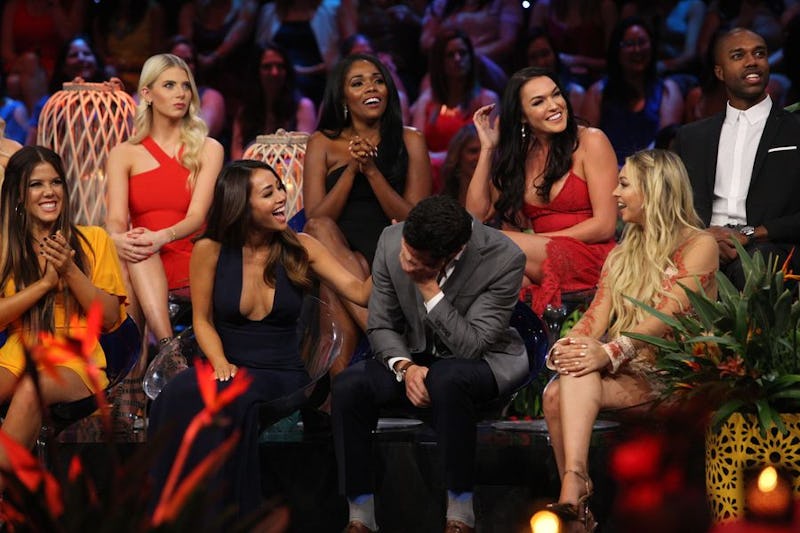 Now that Bachelor in Paradise Season 4 is coming to a close, it's probably safe to say that this has been one of the craziest editions of the show ever. But even the scandal that practically overshadowed every episode didn't get in the way of one couple finding love that would last past paradise. Not too long ago, reports that Taylor Nolan and Derek Peth are engaged surfaced, and now, it definitely looks like those reports are true. Ahead of Monday night's finale, photos of Taylor's engagement ring from Derek have been released, and her new bling is seriously stunning.
People had the honors of sharing the ring for the first time, as well as some insight from Neil Lane about how he helped Derek choose the right piece of jewelry to ask Taylor to spend the rest of her life with him. And yes, just like the rings of Bachelor franchise finales past, this one is pretty huge and sparkly. According to the magazine, it includes a 2-carat diamond, which is definitely impressive.
And although Lane didn't get to sit down with Derek to choose the ring in person like he usually does, he did work with the producers so he could send over the perfect pick.
"What I gathered was that he was more traditional yet he also liked the idea of a romantic ring," Lane told People, and it certainly seemed like he was right, because who could say no to diamonds like those?!
Even though a rose gold ring was also in the running, the one above is what Derek eventually decided to go with, and that's the ring we'll see him slip on Taylor's finger during the finale. Lane also added that Taylor loved the ring, so it will be fun to see her reaction to it when Derek gets down on one knee.
The good news? It looks like these two are going to live happily ever after. The bad news? That's one major element of the finale that won't come as a shock to the fans who are watching on Monday night. Thanks to how quickly spoilers hit the internet now, so many seasons of The Bachelor and its spinoffs have been totally predictable lately for those who choose to read them. But an interview from Lane with actual photos of the ring before the question has even been popped? There goes any kind of mystery that might have still existed, even with the earlier reports that they get engaged.
And even though fans who wanted to remain unspoiled might be disappointed that they know exactly what will happen on Monday night, it will still be fun to see the actual proposal happen. Hearing Derek's proposal speech and seeing Taylor's face when he pulls out the ring are both going to special, spoiled or not. There is still so much to look forward to.
Derek and Taylor's engagement might now be a given for the finale, but there's certainly room for other surprises. After all, DeMario Jackson and Corinne Olympios will be coming face to face for the first time since they left paradise when their scandal was going down. And what will happen between the other couples on the show? Will Dean ever realize the error of his ways? Are Wells and Danielle dating right now, because they're very clearly meant for each other?
There are so many questions that still need to be answered, and the final episode plus the after show still have a lot of potential for epic moments that fans never saw coming. This spoiled engagement is just the icing on the cake.