The Idaho Teachers Behind The "Border Wall" Costumes Were Placed On Administrative Leave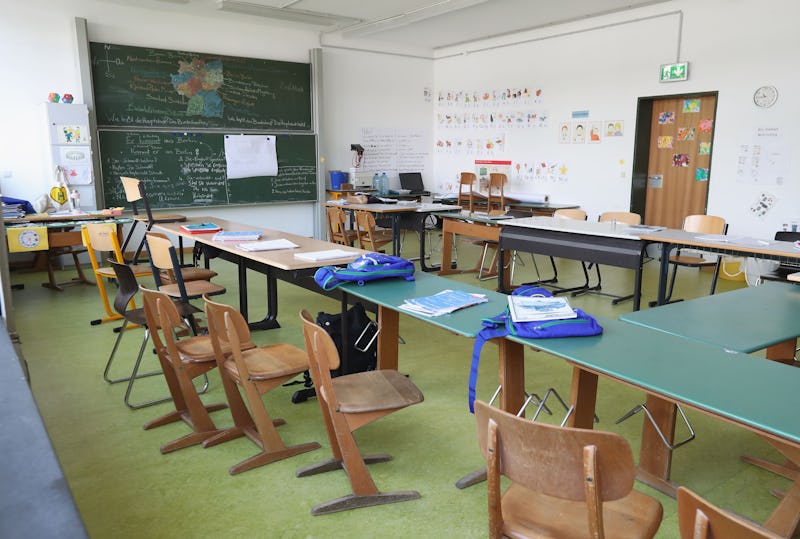 Alexandra Beier/Getty Images News/Getty Images
An Idaho school district has placed 14 staff members on administrative leave after their Halloween costumes triggered swift backlash earlier this week, the Associated Press reported. Teachers at Middleton Heights Elementary School wore costumes depicting Mexican stereotypes and a border wall, prompting widespread outrage and an apology from the school district's superintendent. Bustle has reached out to Middleton Heights and the Middleton School District for comment.
According to The New York Times, the Middleton School District posted photos to its Facebook page showing some teachers posing behind a cardboard border wall that read "Make America Great Again," while others donned fake mustaches and sombreros or American patriotic gear. Multiple advocacy groups, including Idaho's ACLU chapter and Planned Parenthood, subsequently sent a letter to the school district's superintendent — Josh Middleton — condemning the teachers' "harmful" treatment of the Latinx community.
Following this backlash, the school district removed the costume photos from Facebook, and Middleton conducted a Facebook live-stream on Friday to announce an investigation into the matter.
"I'm deeply troubled by the decision by our staff members to wear those costumes that are clearly insensitive and inappropriate," Middleton said during his live-stream. "We are better than this. ... We embrace all students. We have a responsibility to teach and reach all students — period."
Middleton also said that he was "deeply troubled by the decision by our staff members to wear those costumes that are clearly insensitive and inappropriate." However, he argued that the costumes signified "poor judgment," rather than "malicious intent" — a statement that community organizations strongly rejected.
"The intent or misjudgments of the individuals involved does not undo the trauma experienced by students, families and communities," read the letter sent to Middleton by ACLU, Planned Parenthood, and other groups.
According to Slate, nearly 13 percent of Middleton Heights students are Hispanic, and many parents expressed concern that their students were being exposed to an unsafe school environment. Middleton told local CBS affiliate KBOI, however, that the costumes were part of a weeklong team-building activity that included six different countries as part of its theme. Nonetheless, in emails and phone calls to KBOI, some people in the community called on the school district to fire the teachers involved in the incident.
"As a mother to a minority child, I would be mortified if this were my child's teacher," one parent reportedly wrote to KBOI. "They should be fired."
J.J. Saldaña, who oversees education efforts for the Idaho Commission on Hispanic Affairs, told The New York Times that the teachers' costumes were particularly upsetting because Hispanic students are regularly forced to confront anti-immigration messages both in school and in politics.
"We've already been hearing since the last presidential election that Hispanic kids have been taunted with that: 'We're going to build a wall' or 'Your parents are going to be deported,'" Saldaña told The New York Times. "They are still getting taunted and teased and bullied with that, so being an educator, an adult doing this, it's heartbreaking."
The Middleton School District plans to wrap up its investigation and decide on any further actions by next week, per KBOI.