Why Twitter Is Calling Out Ted Cruz For His Comments On Director James Gunn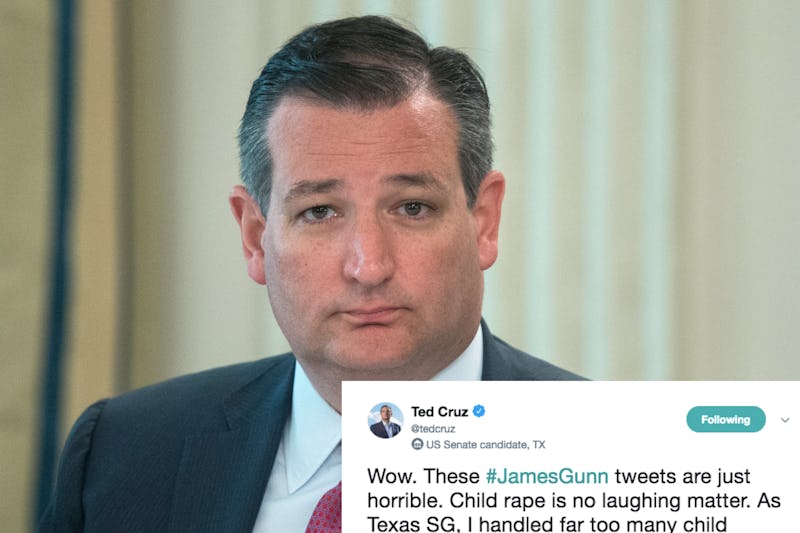 Pool/Getty Images News/Getty Images
On Saturday afternoon, Texas Sen. Ted Cruz called for former Guardians of the Galaxy director James Gunn to be prosecuted for his offensive tweets, which were dug up by far-right activists, according to The Hill. Gunn's tweets included jokes about pedophilia, rape, and the 9/11 terrorist attacks. But many Twitter users are livid with Cruz's James Gunn tweets, with some calling him a hypocrite.
Deadline described Gunn as "a provocateur who has drawn ire in the past for his unusual humor." One of the tweets said, according to Deadline, "I like when little boys touch me in my silly place," while another said, "The best thing about being raped is when you're done being raped and it's like 'whew this feels great, not being raped!'" The majority of the tweets appear to have been posted by Gunn between 2009 and 2011, and there is one from 2012, according to a screenshot of the tweets, which Cruz shared.
The tweets were reportedly unearthed by Mike Cernovich and Jack Posobiec, whom The Hill described as "far-right activists known for pushing conspiracy theories." Deadline reported that Gunn was also known for being an outspoken critic of President Donald Trump, and may have been targeted as a result.
Gunn apologized in a Twitter thread on Friday, saying that he's previously addressed and apologized for his tweets that hurt people:
1. Many people who have followed my career know when I started, I viewed myself as a provocateur, making movies and telling jokes that were outrageous and taboo. As I have discussed publicly many times, as I've developed as a person, so has my work and my humor.
He also said that, though he joked about pedophilia, he was not "living" out the jokes. "For the record," he wrote, "when I made these shocking jokes, I wasn't living them out. I know this is a weird statement to make, and seems obvious, but, still, here I am, saying it.
Disney fired Gunn as director of Guardians of the Galaxy Vol. 3 on Friday, with Disney Studios Chairman Alan Horn writing in a statement to Variety:
The offensive attitudes and statements discovered on James' Twitter feed are indefensible and inconsistent with our studio's values, and we have severed our business relationship with him.
On Saturday, Texas Sen. Ted Cruz shared his views on Gunn's tweets via Twitter, calling them "just horrible." He added, "I'm glad Disney fired him, but if these tweets are true, he needs to be prosecuted." There has not been any evidence that Gunn in fact assaulted a child.
Twitter was perplexed by Cruz's decision to involve himself in the news about Gunn, with many pointing out that it didn't seem like a good idea given his past support of Alabama Senate candidate Roy Moore, who was accused of having relationships with teen girls while he was in his 30s in a Washington Post article published Nov. 9, 2017. (Moore denied the allegations.)
Though Cruz did endorse Moore when he faced off against Democratic candidate Doug Jones, he later rescinded his endorsement of Moore after the Post report alleging he had relationships with four teen girls, according to The Texas Tribune.
Other Twitter users pointed out that Gunn's tweets have nothing to do with Cruz's work as a senator.
And other users said Cruz's tweet about Gunn seemed more like an effort to boost right-wing extremists' credibility than the result of real concern:
Some Twitter users asked why he wasn't condemning Rep. Jim Jordan, who has been accused of helping to cover up an Ohio State wrestling doctor's abuse of more than 100 students. Jordan has called the accusations "fake news," according to Rolling Stone.
Others compared his support of the right-wing extremists who dug up Gunn's tweets to the Reddit user who started the "pizzagate" conspiracy theory, which attempted to link the Clintons to a child sex-trafficking ring they claimed operated out of a pizzeria.
And many Twitter users pointed out that Cruz hasn't called for President Trump to be investigated or prosecuted despite the infamous Access Hollywood tape where Trump admits to groping women without their consent, or the 16 women who have accused the president of sexual misconduct. (Trump has denied all of the allegations and has not been charged with any crime.):
Cruz hasn't responded to any of the critics, and it's still unclear why he's taken on Gunn's tweets and yet hasn't spoken out regarding the Ohio State case. Twitter clearly isn't backing down.