Sorry, 'RHONJ' Fans, But This Restaurant Will Soon Be Gone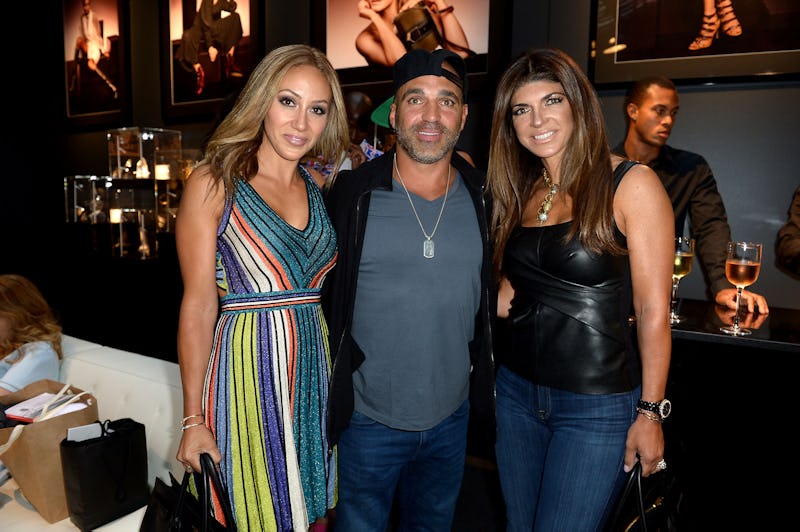 Gustavo Caballero/Getty Images Entertainment/Getty Images
The Gorga family's new dining establishment will soon serve its final dish. On Friday, Jan. 5, Page Six reported that Teresa Giudice, Joe Gorga, and Melissa Gorga are shuttering their restaurant less than a year after its grand opening. If you'd hoped to one day break bread at the Gorga and Giudice's pasta and pizza joint and are disheartened by this news, fear not: This may not be the three Real Housewives of New Jersey (co-executive producer/executive producer: Lucilla D'Agostino) stars' final foray into the hospitality world.
In May 2017, Teresa, Joe, and Melissa opened Gorga's Homemade Pizza & Pasta in East Hanover, New Jersey. The eatery, which has been a big part of The Real Housewives of New Jersey Season 8, is a tribute to Antonia Gorga, Teresa and Joe's late mother. As Teresa told People at the opening of Gorga's Homemade Pizza & Pasta, "We wanted to share her recipes with the world. I always would say, 'Mom, everyone has to try your food!' because that's how I learned to cook."
"My mother loved to cook; it was like her drug," Joe told the magazine. "I always told her I was gonna open up a restaurant for her. Then I got busy. While I signed a contract on this place we lost her. So this is for her."
Though Gorga's Homemade Pizza & Pasta didn't pan out, that does not necessarily mean Real Housewives of New Jersey fans won't get any more chances to dine at an eatery run by the Gorgas and Giudices. Joe, Teresa, and Melissa are reportedly working to make another restaurant a reality, and if all goes according to plan, it'll be a bigger spot that's more "conducive" to their vision. As the family's lawyer James. J. Leonard told Page Six,
"They are in the process of closing down their current location and seeking a larger location ... Their focus is getting a bigger flagship restaurant in New Jersey and then expanding. I would anticipate the reopening of the restaurant to be a family affair and Teresa would be receptive to taking a more expansive role."
The family's attorney also shared details regarding the family's next restaurant idea with Us Weekly. Leonard said,
"They are looking for a bigger space, more conducive to the original vision that they had for the restaurant. They are in the process of looking to secure new management to help basically execute that vision and make what their dreams were more of a reality. This particular space was small and just wasn't really conducive to what they were looking to do."
Hey, maybe second time will be just the charm the Gorgas and Giudices need.
This wouldn't be a proper Real Housewives news item if the tabloids didn't have some scuttlebutt to dish up, and you better believe this story has plenty of scuttlebutt. An unnamed insider told Page Six that Teresa's involvement in the establishment was "more for the cameras than anything else." The source alleged, "She has not been involved with whatever has happened since filming. Teresa had in essence no involvement in the running or managing of the restaurant." Zoinks.
But wait, there's more: Another unnamed insider told Us Weekly that there was allegedly some drama between Joe and the owner. The source claimed,
"The actual owner of the restaurant and Joe worked out this deal where Joe would get money … if he lent his name and image to the restaurant. But the owner never made good on his end of the deal so Joe is done with the restaurant."
Another zoinks.
Farewell, Gorga's Homemade Pizza & Pasta. We hardly knew ye. May your next iteration also boast such adorably named dishes.