Teresa Giudice Slams Divorce Rumors In The Most 'RHONJ' Housewife Way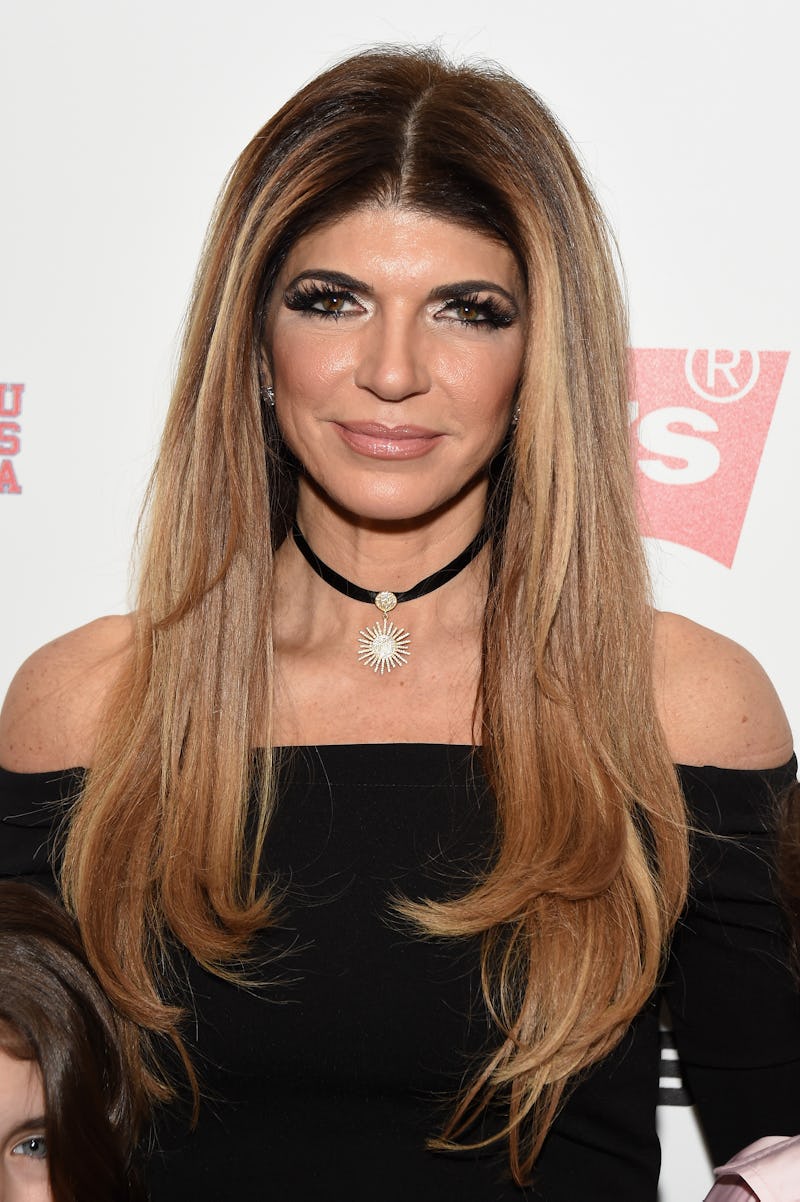 Michael Loccisano/Getty Images Entertainment/Getty Images
Teresa and Joe Giudice can't help but face marriage trouble rumors, but don't believe everything you read. Real Housewives of New Jersey's Teresa and Joe aren't splitting, despite recent rumors surrounding their relationship. "I am not getting divorced," the Housewife told Bravo's The Daily Dish Wednesday. "The truth is I miss my husband and cannot wait for him to come home."
A source who is reportedly close with Teresa alleged to Us Weekly, "The marriage may be over." The insider also claimed the 45-year-old is "loving her independence" and freedom while Joe is at Fort Dix Correctional Institution, where he is serving a 41-month prison sentence for fraud. In December 2015, Teresa was released from prison after serving 11 months of her 15-month sentence, also for fraud, including bankruptcy fraud and failing to file income tax returns.
Teresa disputed the above claims and told The Daily Dish, "We talk everyday on the phone and I go and see him a few times per month. My daughters miss their daddy just as much as I do. We all love him very much."
The same source also alleged that Joe is involved with someone else. "He's always said this particular person was just a friend, but now Teresa thinks there's more to the relationship," the source claimed. Both Joe and Teresa have repeatedly denied cheating allegations that have previously been made. "Being apart isn't easy, it's not ideal, but it is something that we deal with," the author told The Daily Dish. "We are still a family and we still love each other very much."
According to Teresa, all is well with she and her husband. But, to make matters even clearer, she also took to Twitter and bluntly stated, "I must be getting old. I actually remember when @usweekly was considered a credible entertainment news source #Oldnews #fakenews #nonews."
Yes, she totally used the hashtag "fake news" to make her point. It's really no surprise, especially since she voted for Donald Trump and once called him "amazing." But even though it channels Trump in the hashtags, her response is so Teresa. When hasn't she been bold in getting her point across or defending herself and her family, especially on RHONJ? If Teresa doesn't agree with someone, she'll let you know.
Like the fierce and in-your-face Housewife she is, Teresa is ready, willing, and able to put down rumors about her family.