Why You Should Start Watching 'Terrace House' On Netflix ASAP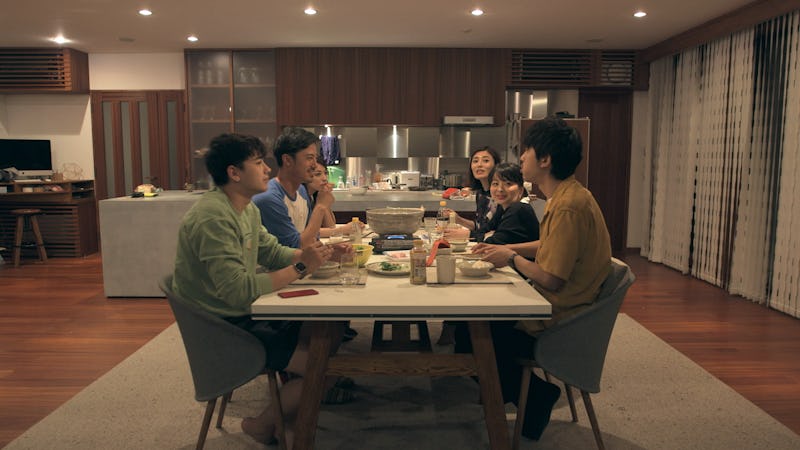 Netflix
Terrace House is kind of a beast of a reality franchise, but there is no better show to jump into halfway through than this Japanese reality hit. The worldwide phenomenon just released Part 4 of its latest show, Opening New Doors, with Part 5 coming soon. While Netflix hasn't announced when Part 5 of Terrace House: Opening New Doors will be streaming, fans can expect the show to drop in early December.
The show has a unique release structure, premiering episodes on a weekly basis on Netflix Japan, before releasing them as 8-episode "Parts" globally. These "parts" are released a month after the final episode of the "part" airs in Japan, likely to give other countries time to translate the episode and write subtitles. The final episode of Part 4 was released on Netflix Japan on September 11th, and a month later, on October 9th, international fans got to stream those four episodes with their subtitles of choice. With Netflix Japan up to Episode 3 of Part 5, the Part should be complete about halfway through November, meaning fans should expect Part 5 to release internationally a month after that.
Part 5 of Terrace House is a couple of months away, leaving plenty of time to people to catch up on the eight-episode Part 4 before any new episodes get released. However, if you've fallen behind on your Terrace House watching or are a newcomer to the series, fret not — No reality show is easier to drop in on partway through than Terrace House. Be warned, however, because people who haven't watched Opening New Doors in a while and are just coming back to the series will find that the show has a very different cast now.
Of the original six houseguests that moved into Terrace House at the beginning of the season, the only one that remains at the beginning of Part 4 is snowboarder Takayuki Nakamura. The remainder of the cast — including all-time great Terrace House couple Tsubasa Sato and Shion Okamoto — left over the course of Parts 2 and 3. With some key departures in Part 4, the Terrace House: Opening New Doors of Part 5 will almost look like an entirely new show, with the exception of the house itself and the show's handy commentators that fill viewers in on the events of the episode.
While many reality shows rely on regular and recognizable figures to drive its content, Terrace House is designed specifically so that houseguests can leave at their own leisure, allowing for new entrances ever few episodes. Additionally, this makes it easy for new and former viewers to drop in on recent episodes without worrying about the events of the past few parts — there's always a new character that audiences can keep an eye on, and the commentators are always efficient at filling in details and recapping past episodes.
Terrace House is an acquired taste, as not everyone is willing to sit through an hour of subtitled reality television. However, those who are enjoying this iteration of the franchise won't have to wait long for a new batch of episodes, and those who don't want to have to watch the first three parts will be fine jumping into Part 4 and figuring things out as they go on.