Texas' Anti-Trans Bathroom Bill Is Dead — At Least For Now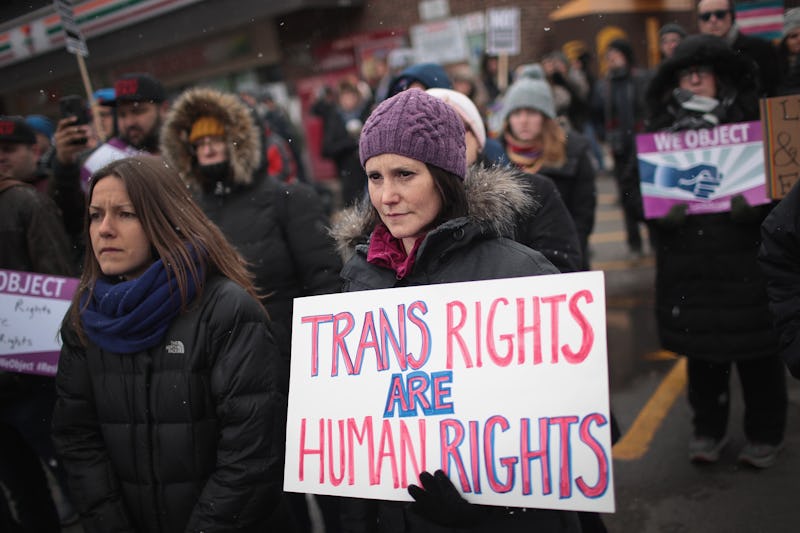 Scott Olson/Getty Images News/Getty Images
Hopefully the third time is not the charm in Texas. The Texas anti-trans bathroom bill failed for the second time this year, when the governor's special session ended early on Tuesday. Gov. Greg Abbott is a big champion of the law, and it passed the Republican-controlled senate last month. It was only the Texas House that prevented it from becoming law.
In a sign of what's to come, the pro-business Republican Texas House Speaker Joe Straus told Reuters that the bill will not be a priority when the chamber comes back into session. The governor had called for a special session back in June to pass a number of items from his legislative agenda, including this bill. For the time being it doesn't seem as though he'll try again, the AP reported.
An economic study showed that it could have cost the state some $5.6 billion in losses to the economy, and it was ultimately big business, typically supported by Republicans, that helped bring down the measure. Leaders from big business including Chevron, BP, ConocoPhillips, Halliburton, Shell, and ExxonMobil wrote the governor earlier this month to voice their opposition. They said it would make it harder to recruit top talent to the state.
Sarah Kate Ellis, president of GLAAD, the national LGBTQ media advocacy organization made a statement about the bill's failure, calling it a victory against "legislation that helps no one and harms many":
Even in these dark times, LGBTQ organizers, business leaders, fair-minded politicians, and allies in Texas and across the country rose up against Gov. Abbott's outright attempt to place his anti-trans agenda ahead of the well-being of the state and its people.
This kind of bill is what got North Carolina into deep trouble with HB2. A national boycott is thought to have cost the state almost $3.8 billion. They repealed most of it in March.
The Texas initiative is one of the most followed by the media, but there have been more than 100 anti-LGBTQ bills introduced in at least 29 states, according to the Human Rights Campaign. On top of that, the Trump Administration has moved backwards on trans rights in education and tweeted that trans service members would be kicked out of the military.
In Texas, some 90 percent of trans workers have been mistreated on the job, according to the ACLU. The state has no employment non-discrimination statute, although two-thirds of the public would support such legislation.
But with Abbott serving as governor, that is highly unlikely. He will run for reelection in 2018.