A Texas Mom Died From The Flu After Rejecting Tamiflu For Being Too Expensive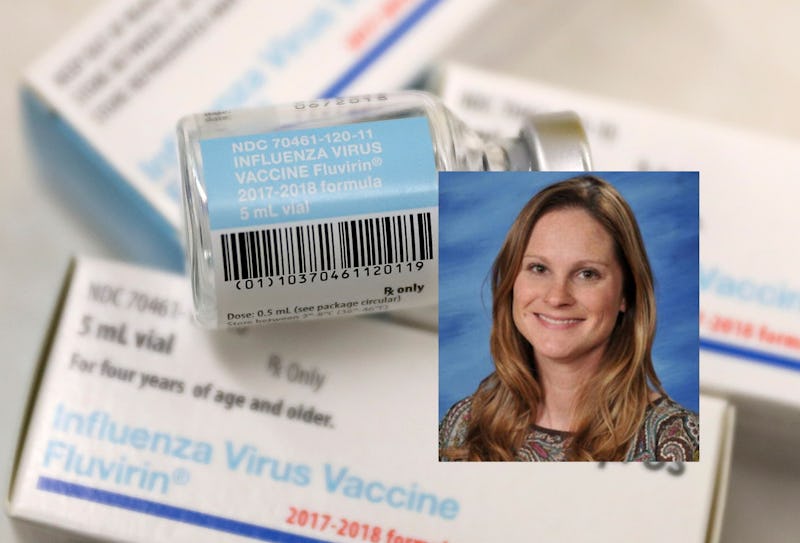 Right now, the United States is facing its worst flu season in more than a decade. Thousands of flu-related deaths have been reported in the United States so far this season, and Texas is leading the country in terms of flu cases. When not properly treated, the flu can lead to viral pneumonia, sepsis — which causes organ failure — increased risk of a heart attack, and dehydration. For some, treatment comes at a high cost: Earlier this month, a Texas teacher died from the flu, after telling her husband the $116 co-pay for Tamiflu was too expensive.
Heather Holland, a 38-year-old second-grade teacher in Weatherford, Texas died on Feb. 4 after suffering complications from the flu. A week prior to her death, she'd gone to her doctor and was prescribed the medication. While she planned to eventually pick up the antiviral medicine, a generic version of Tamiflu, Holland told her husband she felt the price was too high, the Weatherford Democrat reported.
"Friday night, things escalated and she ended up in the ICU," Heather's husband Frank told the paper. "The doctors got the blood cultures back and they had to put her on dialysis early Saturday."
Holland's death has sparked a debate around the wealth gap in America's healthcare system. On Twitter, some people are discussing what it means to live in a country where a person with a full time job and health insurance still has a hard time affording a $116 co-pay.
The United States has one of the world's largest health disparities between the rich and poor, according to a Harvard study published in Health Affairs. America ranked in the bottom three out of 32 countries, along with Chile and Portugal, for having the biggest wealth gap in healthcare.
In the study, more than 38 percent of the poorest third of Americans reported "fair or poor health," compared to around 12 percent of the richest third. Experts say this is due to a lack of social supports.
This means flu season can become a lot more difficult for low-income Americans, especially the 12 percent of Americans that don't have health insurance. So far this flu season, there's been at least 2,897 flu-related deaths in Texas, according to the state's report on Feb. 2. A majority of the deaths were people over the age of 65.
And Texas isn't alone — most states have reported a higher number of flu-related deaths this season. In Arkansas, 122 people have died due to complications from the flu. States like California have also seen a rise in flu-related deaths. Every state, with the exception of Oregon and Hawaii, is currently experiencing widespread flu. In 2018 so far, there have been at least 53 pediatric flu-related deaths in the United States.
"Our latest tracking data indicate that flu activity is still high and widespread across most of the nation and increasing overall," Dr. Anne Schuchat, acting director of the Centers for Disease Control and Prevention, told CNN. "So far this year, the cumulative rate of hospitalizations is the highest since we've been tracking in this way, which goes back to 2010."
While Holland was insured and could afford the flu medication, her husband said she didn't want to shell out the money on principle.
"It's principle with her," Frank told The Wall Street Journal. "She's a very frugal person in general, always has been."
Holland had been taking Nyquil because she found the antiviral medication's cost "ridiculous," according to her husband. Eventually, he took it upon himself to fill the prescription and made her start taking it. But at that point, it was too late.
Frank agreed with his late wife that the medication co-pay was overpriced, but he blamed Holland's employer-provided health insurance for that. He said he wished teachers were given better drug coverage, given how many germs and viruses they're exposed to.