Veronica Escobar Wants You To Know You're Going To Hear From Her In Congress — A Lot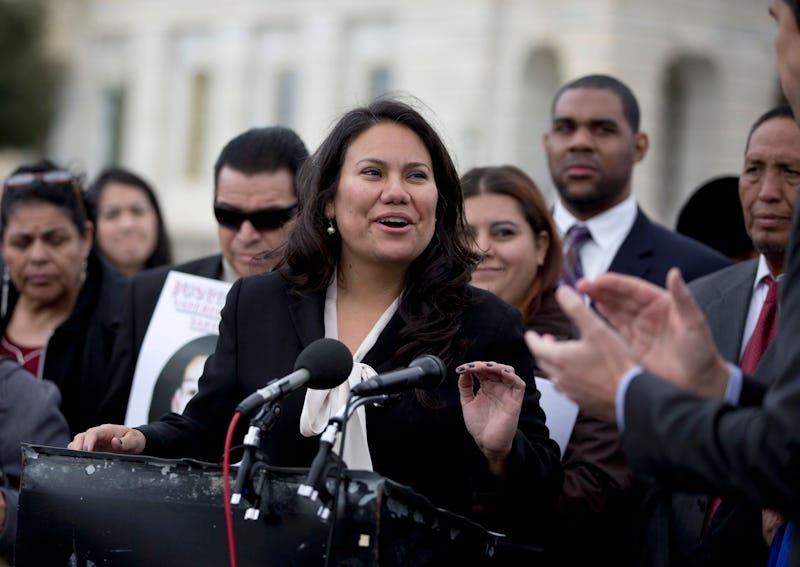 Carolyn Kaster/AP/Shutterstock
Texas' 16th Congressional District made history Tuesday night when it elected one of the first two Latina women representatives in the state's history. And with her eyes set on Washington, congresswoman-elect Veronica Escobar tells Bustle that she is determined to make herself heard.
"Donald Trump's descriptions of immigrants and the border and minorities is not just false, but it's appalling and it's racist," Escobar says, referring to the president's fixation with the U.S-Mexico border, which her district sits on. "And more people need to speak the truth and call a spade a spade. Really, it should primarily be coming from his own party, but it's not. Every time he maligns the border, you're going to hear my voice. Every time he maligns immigrants, you're going to hear my voice."
But, Escobar says, she's also looking forward to taking the president to task, holding him accountable for his actions — or lack thereof. She points to the president's tax returns and the Russia investigation, topics that have renewed significance under an incoming Democratic majority in the House.
"The things he's doing that he's able to get away with — for example, not releasing his tax returns in the face of possible collusion with Russia," she says. "Well, there's a role for the Congress to play in ensuring that we have safe elections and that we don't have treasonous behavior in the Oval Office."
Escobar and Sylvia Garcia, who also won her election on Tuesday, are the first two Latina women that Texas will send to Congress. Escobar will represent the border town of El Paso and its surrounding area, filling a vacancy left by former senatorial candidate Beto O'Rourke, who lost his election to incumbent Ted Cruz. That Escobar was elected by one of the very communities that Trump has targeted for a new border wall — which she described in a New York Times op-ed as "nonsensical" earlier this year — is not lost on her, she tells Bustle.
"I have been very much a zealous advocate for the border and for us as an immigrant community, as an international community, as a vibrant and safe community," she says. "So I do hope that the president sees not just my election, but the election of so many women — and so many women of color — as a check on the awful way that he's behaved."
Indeed, Escobar and Garcia's successful campaigns, although historic in their own right, did not occur in a vacuum. A record number of women of color ran for election in the 2018 midterms, and dozens of them won their races on Tuesday. Escobar is proud of this, but says she's also thankful those who laid the ground for her success.
"There's so many women who came before me who did not have the opportunities that I have had," Escobar says of her historic victory. "So I feel incredibly privileged to be able to enjoy the opportunities that I've had as a result of the hard work that other women have done."
Like many women who ran this year, Escobar points to the Trump administration one of the catalysts for her decision to run for office, describing the president as "the lightning rod." But, she adds, she believes that women's increasing involvement in politics was "a long time coming."
"Women are seeing that those in power are doing nothing to preserve and save our planet," she says. "Women are seeing that those in power are doing nothing to protect children at school from gun violence. Women are seeing that Republicans in power are trying to legislate their reproductive rights."
That so many women took the plunge to run for public office this year makes sense to her, Escobar says, suggesting that it's part of a larger pattern of behavior.
"I think that women responded in the way that women do. When something has gone terribly wrong, women will frequently stop what they're doing, jump in, and help. And that," she says, "is what I see the women of America doing right now."