This Video Of A Texas Lawmaker Blaming Too Many Doors For School Shootings Is Unbelievable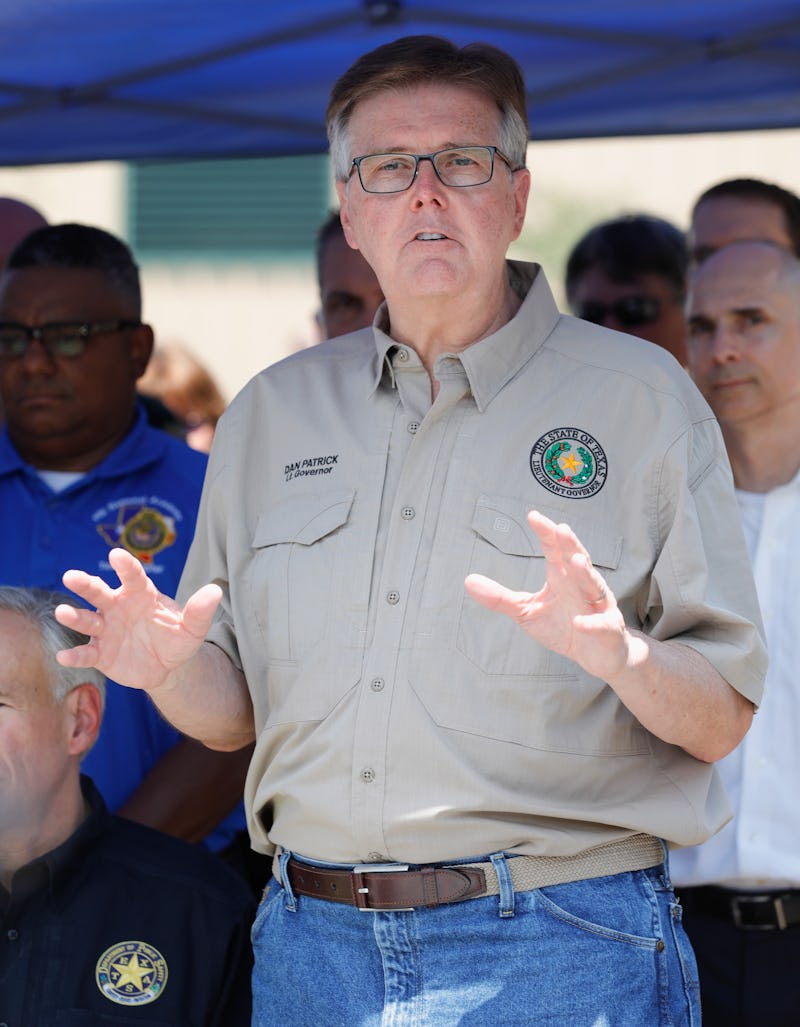 Bob Levey/Getty Images News/Getty Images
On Friday, a gunman opened fire at Santa Fe High School in Texas, killing 10 people and injuring several more. In remarks to the press following the shooting, the state's lieutenant governor, Dan Patrick, suggested multiple doors in schools enable shootings, and indicated that they may have to be retrofitted to have only one entrance apiece.
"We may have to look at the design of our schools going forward, and retrofitting schools that are already built. And what I mean by that is there are too many entrances, and too many exits, to our more than 8,000 campuses in Texas," Patrick said. "There aren't enough people to put a guard at every entrance and exit, you would be talking 25, 30, 40,000 people."
He continued, "Maybe we need to look at limiting the entrance and the exits into to our schools. So that we can have law enforcement looking at the people who come in one or two entrances."
The Santa Fe High School shooting was the 22nd school shooting of 2018, according to CNN's metrics, and it's sparked an outpouring of grief and outrage throughout the country. Patrick's suggestion has been met with some incredulity by many on social media, particularly supporters of gun control reforms.
Patrick's suggestion is of a piece with many of the solutions to school shootings that Republicans and conservatives have proposed in recent months, in that it comes at the problem from an angle that does not challenge or confront the role of guns in American society.
This is why advocates for gun reform have reacted so poorly to it; there are currently an estimated more than 300 million guns in the United States, with some estimates rivaling or exceeding the country's total population.
In the aftermath of the deadly Stoneman Douglas High School shooting back in February, elected Republican officials ― as well as the National Rifle Association, the foremost gun rights lobbying group in the U.S. ― have been reluctant to endorse any meaningful changes to federal gun laws. Some auxiliary proposals, however, like increased security and arming certain teachers, have been embraced, including by President Donald Trump.
According to reports, nine of the people killed in the Santa Fe shooting were students at the school, and one was a teacher. The state's Republican governor, Greg Abbott, confirmed to the press that another 10 people were injured in the shooting.
In addition to Abbott and Patrick speaking out following the shooting in their state, some political figures from the progressive side have also weighed in. For one, former Democratic presidential nominee Hillary Clinton, who tweeted on Friday that politicians refusing to enact new gun laws are "failing our children."
"Every day that we fail to act on gun violence, we are failing our children. This should be a day for soul searching across America - and that soul searching should be matched with legislating to begin dealing with this national shame," she said.
The shooting also drew public responses from some of the high-profile student activists survivors of the Parkland shooting, like David Hogg, Cameron Kasky, and Emma Gonzalez, and it's fair to say they're advocating for very different ideas than reducing the number of entrances into schools. Gonzalez, for her part, tweeted the following, promising to support the victims through this harrowing experience.
"Santa Fe High, you didn't deserve this. You deserve peace all your lives, not just after a tombstone saying that is put over you," she said. "You deserve more than Thoughts and Prayers, and after supporting us by walking out we will be there to support you by raising up your voices."