That Time Anthony Scaramucci Called Trump "Anti-American" & A "Hack"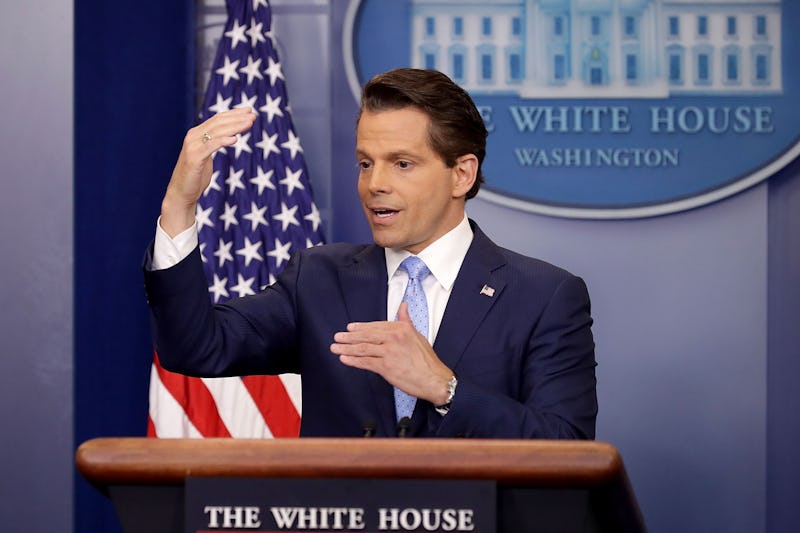 Chip Somodevilla/Getty Images News/Getty Images
President Trump's pick for White House head of communications was made public on Thursday evening, and by the next day, embattled Press Secretary Sean Spicer — who "vehemently disagreed" with the appointment, according to The New York Times — had resigned. But the new communications director, Anthony Scaramucci, hasn't always been on Trump's side, having called the president "anti-American" and a "hack" on Fox in the past.
Scaramucci made his scathing comments in 2015 on Fox Business Network, directing them right at the then-presidential candidate. "I'll tell you who he's going to be president of — you can tell Donald I said this — The Queens County bullies' association," Scaramucci said. "I don't like the way he talks about women. I don't like the way he talks about our friend Megyn Kelly. And you know what? The politicians don't want to go at Trump because he's got a big mouth and he's afraid he's going to light 'em up on Fox and other places, but I'm not a politician. Bring it."
He had also called Trump an "inherited-money dude" on the show.
On Friday, after the White House officially announced that Scaramucci was its communications director and Sarah Huckabee Sanders the new press secretary, journalists and observers alike quickly took to Twitter to share clips of Scaramucci's interview.
Scaramucci, however, has since dramatically altered his stance on Trump. The big-time Republican donor worked on Trump's transition team and has been a vocal supporter of Donald Trump Jr. as his troubles involving his connection — and potential collusion — to Russia deepen. Early in July, Scaramucci called Trump Jr. a "virtuous and honorable man" on Twitter and wrote that he "will have your back always."
The new communications director made headlines himself in June, after a CNN retracted an article about an alleged investigation into a post-election meeting between Scaramucci and a Russian investment fund head. The incorrect report led to three CNN journalists' resignations, and Trump tweeted about the incident criticizing the network as "fake news."
But Scaramucci's comments about Trump in 2015 seem to have made full circle. In his first press conference at the White House on Friday, a reporter asked Scaramucci about his past remarks and he described them as "one of the biggest mistakes that I've made because I was an unexperienced person in the world of politics."
"I was supporting another candidate. I should have never said that about him," Scaramucci told reporters, adding that Trump brings it up "every 15 seconds" to laughter in the room.
"Mr. President," Scaramucci said, "if you're listening, I personally apologize for the 50th time for saying that."