Um, That Wonder Woman Easter Egg On'Legends Of Tomorrow' Was Epic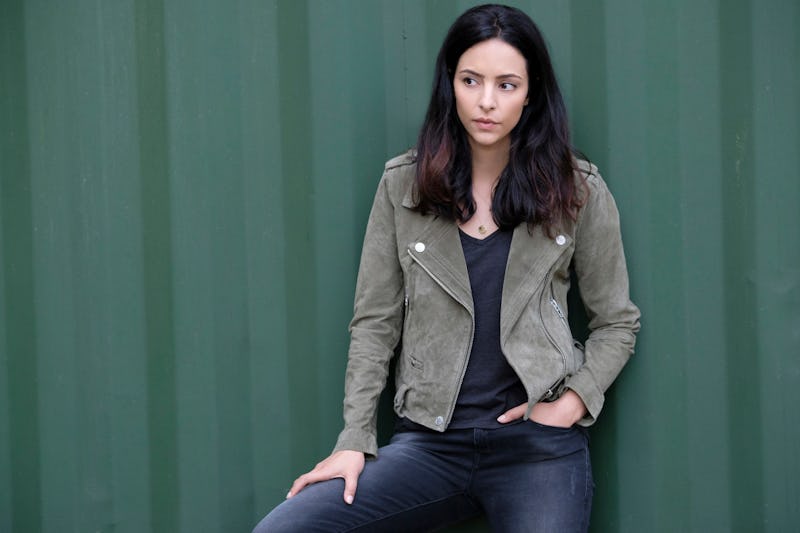 The CW
The Trojan War is going to have to find some other pretty face to inspire it, because Legends of Tomorrow's newest team member has officially hacked time and rewritten history. Zari (Tala Ashe), frustrated with the team not allowing her to go back to her own time and save her family (because of the rules of time travel established on this CW superhero drama), decided to take matters into her own hands and save someone else's reality in tonight's episode. Instead of returning a time-displaced Helen of Troy (Bar Paly) from 1930's Hollywood back to a place where she would be the object of a war she never wanted or a man she never loved, Zari took her to the same year she came from, but not the same place. Instead of dropping Helen off in Troy, she dropped her off in Themyscira.
Yes, that's Themyscira, as in the island that Wonder Woman and all the Amazonian women call their home. That surprise Wonder Woman easter egg was fun as hell to see dropped on The CW's zany, time traveling DC Comics series (airing Tuesdays at 9 p.m.), especially since that property has been saved for the big screen DC universe in recent years and there haven't been any connections to the TV universe (and seeing as how there are two Flashes with Grant Gustin and Ezra Miller, that makes sense).
But between this and Arrow's Bruce Wayne mention a few weeks back, the DC TV shows have truly thrown the rule book out the window when it comes to dropping those big movie superhero names — and that's what fans have been waiting for ever since this Arrow-verse was created six years ago.
The Legends of Tomorrow cast members feel the same way about those fun, throwaway references, getting visibly excited when asked about it on the Vancouver set on a late night last week. "I love it," Ashe tells Bustle along with a small group of reporters sitting on the Waverider set. "It really works for the story. And the next episode is very female-strong, so it's appropriate that that's the last moment you see in the episode."
Caity Lotz, who plays the badass assassin turned captain of the Waverider and de facto Legends team leader, thought the Wonder Woman reference was "really cool."
"So Gal Gadot is coming on the show," she says with a laugh, obviously joking but we still checked. Unfortunately, Bustle has confirmed with Warner Bros. TV that this Themyscira location won't be seen again, as the moment was just that — a fun moment. No Amazonian women will show up later, and this will be the last we hear of Wonder Woman's home. But still, even having that small moment was incredibly fun for fans of both Legends of Tomorrow and Wonder Woman, like series star Brandon Routh.
"Wonder Woman was an awesome movie, so I think giving praise to that and that whole world is awesome," he says of that surprise ending. And Maisie Richardson-Sellers, who plays Amaya aka Vixen, loves that being in the comic book world allows them to play with those fun moments. "It's awesome!" she says, rocking a '70s-inspired white jumpsuit and afro for the episode they're currently filming. "And we saw [The Flash's] Wally West [Keiynan Lonsdale] at our first episode, and so it's just really playful to be able to jump around. I think Wonder Woman has paved the way brilliantly, proving that female-focused movies and TV shows can be a huge success. So I think that was a very affectionate shout out. I liked it."
What this means for the team moving forward is nothing good, however, since Zari disobeyed a direct order from Sara and did not return Helen of Troy to her proper place in the timeline.
"It is going to be annoying for Sara and something that she can't really tolerate on the team," Lotz says, wearing a similar white jumpsuit and bright blue eyeshadow, looking very at home in her '70s costume. "She can't have somebody, some new person coming in and messing everything up by trying to do her own thing. If she wants to be a part of this team she needs to be a part of the team."
Ashe confirms that the team is going to react "not well" when they find out about her "hacking time." "That's something you're going to see a lot of in the coming season is Zari trying to hack time and try to find these loopholes," she says. "It's going to come to a head, actually, in [episode 10], especially with Sara. She's not cool with it."
However, it's secretly what the whole team wishes they could be doing, according to Routh. "But since we've been on the ship since the beginning with Rip [Arthur Darvill], we're more stuck to following the rules than a newcomer," he says.
But Richardson-Sellers offers up a much more optimistic plan moving forward: the team could learn to compromise with Zari and make things better instead of keeping the timeline the same.
"She's sort of a rebel here, but I think if we try and change her, it's not going to work," she says. "What's great is she gives us a new perspective on the ways that we can alter history and maybe actually improve it rather than just correct it. It's definitely an eye opener for the whole team, especially Sara who has very strict rules."
In fact, Sara "has to reassess" her rules of time travel pretty soon. "In a later episode, Zari's way of doing things is the way that we will survive," Richardson-Sellers says. "So it's definitely a lesson we learn through her." And if Zari is the one we can thank for this Wonder Woman shout out, let's keep those lessons coming!