These 10 Rain Boots Look So Chic & They're Shockingly Affordable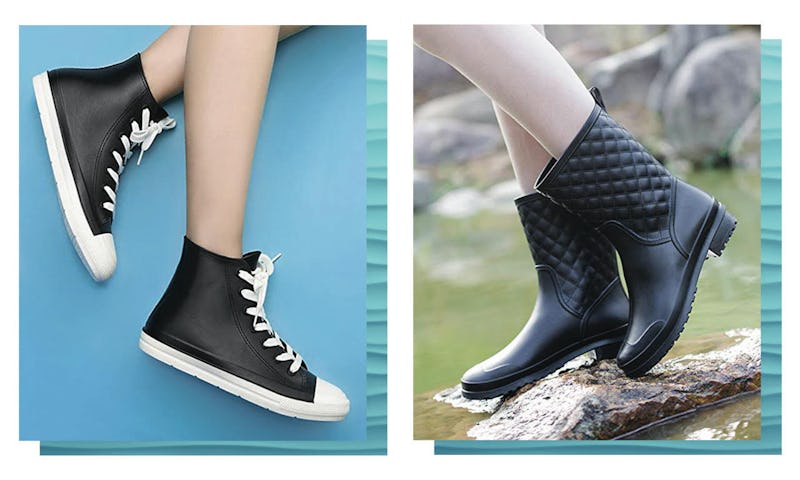 Bustle / Amazon
You probably don't need industrial-strength, pricey rain boot, unless you live somewhere where "monsoon season" is a technical term (in which case, here you go). For the occasional rain boot wearer, an effective, budget pair can see you through soggy weather, and the best cheap rain boots will even keep you dry in style.
Knowing what to look for in a budget pair will help you score some surprisingly nice rain boots. Consider the following:
Material: Rubber rain boots are traditional, durable, and naturally waterproof. PVC, another commonly used material, is lightweight and more affordable, but it's not as long-lasting and is stiffer than rubber, which can make for boots that are harder to get on.
Soles: A sturdy sole that can provide stable footing on slippery surfaces is a must. Your best bet is a thick, waterproof lug sole that's cut with deep grooves for grip. You might also see a calendared boot sole, which is rubber that has been run through a roller and imprinted with an anti-slip design on one side (although not as deeply as a lug sole). If you're torn between the two, a lug sole is more likely to give you better traction. It might also be a more versatile choice for people who get snow.
Bonus features: Some nice-to-have additions to look for include a warm lining or cushioned insole that can make budget boots feel so much nicer. Goring, pull-on straps, or zippers are great for people looking to avoid the mundane yet maddening challenge of getting into and out of a rain boot without breaking a sweat.
There are some astonishingly cute rain boot finds below, including artisan patterns and adorable rubber bows that channel Kate Spade or Ferragamo without the designer price. There are also some more practical options, like glossy Wellingtons and iconic duck boots. With the exception of one accessibly priced "splurge," all of these options cost approximately $35 or less (depending on size).
Bustle may receive a portion of sales from products purchased from this article, which was created independently of Bustle's editorial and sales departments.