The Very Best Responses To "See You In Court"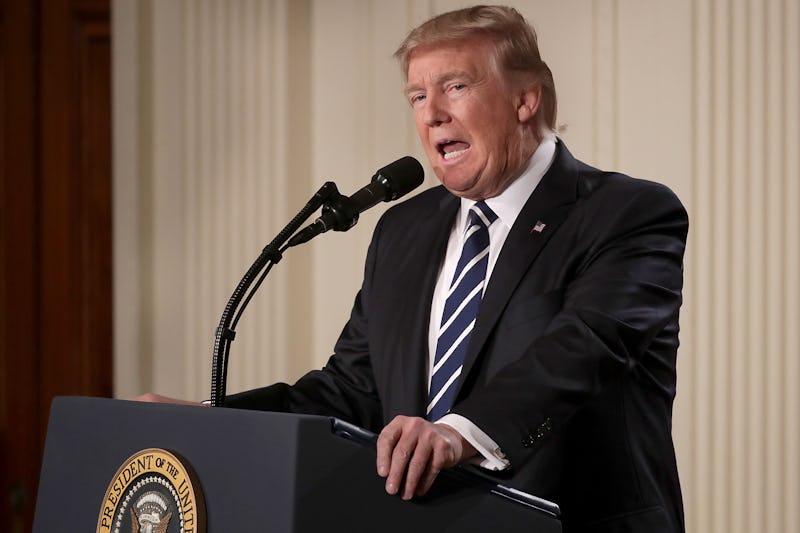 Chip Somodevilla/Getty Images News/Getty Images
A few short months ago, if Americans could depend on nothing else, they could at least rely upon a steady feed of measured and often bland tweets from the POTUS. Those days ended with the election of President Trump, who had already demonstrated throughout his campaign a shrewd ability to weaponize his Twitter account against even the lowliest of foes. That is, when he wasn't turning tweeting into a megaphone for his unfiltered emotional outbursts. Such was the case on Thursday, when Trump went all caps on everyone after the court refused to reinstate his travel ban. This time, Twitter punched back with a deluge of hilarious comebacks to Trump's "SEE YOU IN COURT" tweet.
Anyone with more than two weeks of online interaction experience knows that the caps-lock key is reserved mostly for one word, maybe two, usually for emphasis — not rage. Trump does not get this at all. Perhaps he has never been on the receiving end of the all-caps tweet or text? Otherwise, how could he miss that the aesthetics alone are big league repellent?
Either way, people on Twitter had some hilarious responses to the "SEE YOU IN COURT" tweet aimed squarely at the people who, well, spend every day in court.