Louis Theroux & Ovie Soko On 'Bake Off' Is Exactly What We *Knead* RN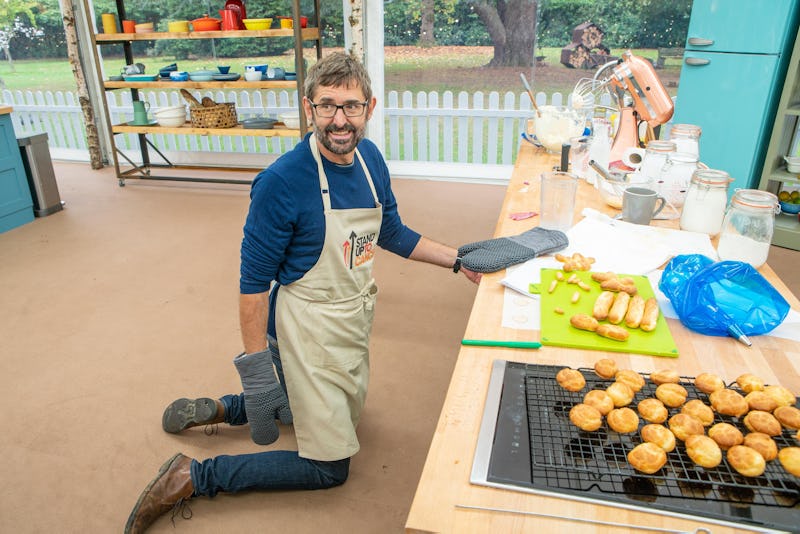 Mark Bourdillon/Channel 4
The Great British Bake Off is truly the TV version of a national treasure. Meaning that getting a bunch of much-loved UK household names on the show is basically national treasure squared. Celebrity Bake Off's latest season started with a splash and with the cream of the crop talent involved, choosing then funniest moments in Celebrity Bake Off is tougher than constructing a structurally sound Croquembouche.
This year's season kicked off with a bang when documentary maker and journalist Louis Theroux, comedian Jenny Eclair, comedian Russell Howard, and (object of nearly everyone's affection) basket baller Ovie Soko stepped into the bake off kitchen. All four stars were braced and ready for battle — donning their aprons, oven mitts, and nervous smiles all in aid of Stand Up To Cancer (SU2C).
SU2C is Cancer Research UK and Channel 4's fundraising campaign that brings the UK together to speed up progress in life-saving cancer research. Apart from the hit show laden with celebrities, viewers at home are also encouraged to bake and fundraise for the campaign.
Although not one of the contestants claimed to be avid bakers, none of them were terrible either. Actually, they were pretty alright if you ask me. Eclair won star baker in the first episode and will go on to compete to win the Celebrity Bake Off crown.