The 11 Most Fascinating Things You Can Buy For Your Boobs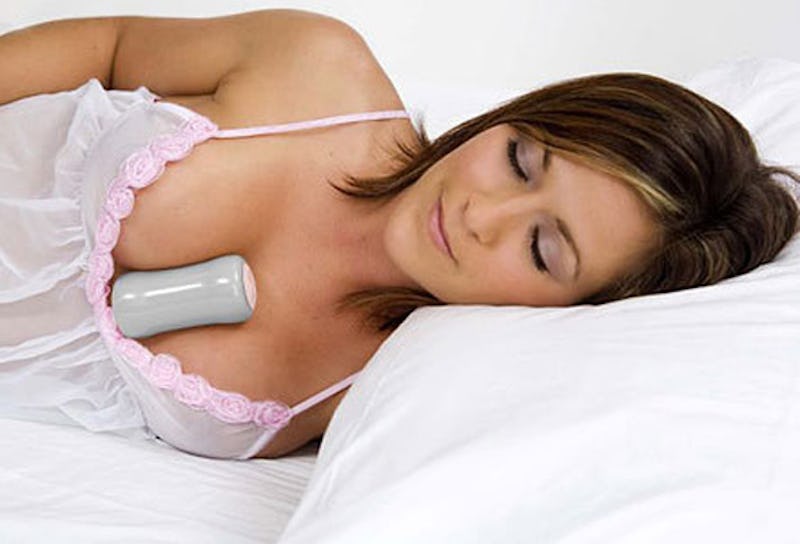 Amazon
Not too long ago, a little invention named the the Ta-Ta Towel basically broke the internet. This little piece of amazing fabric solved an important problem everyone with boobs faces: sweat. But while groundbreaking, it isn't the only fascinating thing you can buy for your boobs.
The Ta-Ta Towel was invented by Erin Robertson, who was living in Los Angeles and getting ready for a date, sweating in the summer. While on said date, she had the genius idea of creating what is now infamously known as the Ta-Ta Towel. Out of necessity always comes innovation!
Luckily for people with breasts, the Ta-Ta Towel is just one of the many amazing things you can buy for your boobs. Of course, there are bras, but there's so much more to explore in the world of boobs. Get ready.
From the weird and wacky to the useful and actually pretty genius, these are the most interesting things you can buy for your boobs.
1. The Boob Support For Sleeping
Pink Kush Support, $23, Amazon
Made specifically for support while you sleep, the Kush evidently makes sleeping a breeze.
2. Wrinkle Prevention
Victoria Featherlight Chest Pads, $30, Amazon
Supposedly, these little stickers prevents chest wrinkles from the sun, aging, and sleeping on your side.
3. The Push-Up Seen All Over Instagram
Silicone Push-Up Sculpt Lift Adhesive Invisible Stick Gel Wing Bra, $6, Chicuu
You've seen these things all over Instagram, and apparently they provide a whole lot of lift and are endorsed by all sorts of celebs!
4. The Boob Pillow
Descansa Breast Comfort Pillow Memory Foam, $51, Amazon
Honestly, this is so necessary for laying on your stomach.
5. Nipple Enhancers
Gel Silicone Nipple Enhancers, $14, Sense Lingerie
Remember when Samantha and Miranda tried out a similar product on Sex and the City? Iconic.
6. A Breast Massager
Sunmas Breast Masssager, $40, Amazon
And it actually has great reviews.
7. Boob Deodorant
Fresh Breasts, $11, Amazon
With a name as straightforward as this, it had better fulfill its mission.
8. Breast Coolers
Tendher Soothing Breast Coolers, $25, Pariday
These reusable gel patches provide relief for women who are breastfeeding. Genius!
9. Bust-Firming Cream
Palmer's Cocoa Butter Formula Bust Firming Cream, $16, Amazon
A good lotion, if anything.
10. Breast Lift Tape
Breast Lift Tape, $17, Amazon
In case you can't wear a bra but want a little lift, this tape is here for you.
11. The Ta-Ta Towel, Of Course
Ta-Ta Towel, $45, Ta-Ta Towel
Just plain wonderful.
Boobs. Sometimes they're great. And other times, they're just plain annoying. But if there's one thing you can't deny — it's that these products are absolutely fascinating, whether they're ridiculous or genius.