This Cult-Favorite Backpack Is Water-Resistant, Pickpocket-Proof, & Only $26 On Amazon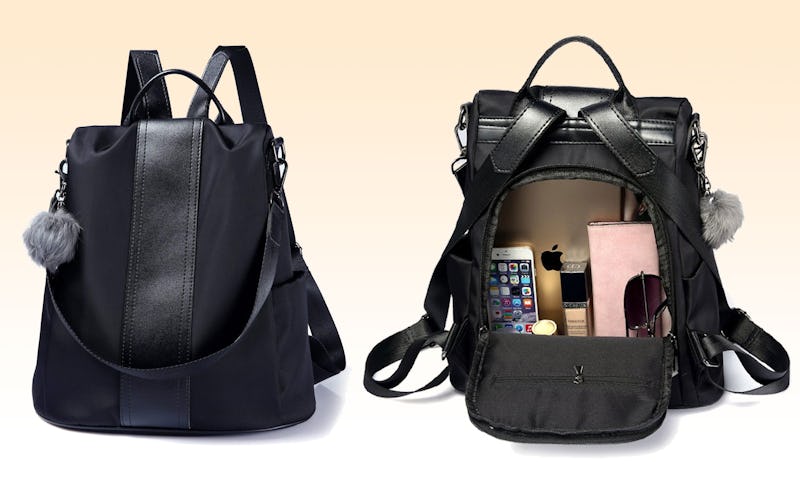 Amazon
Travel backpacks are a dime a dozen, but finding one that's attractive, too? Now that's a rare combination. So often, they're practical at the sacrifice of style. Fortunately, this elusive combination isn't wholly unattainable — it's just a little harder to find. That's why I've scoured Amazon to find a selection of the most fashionable travel backpacks, making sure to include a wide variety of styles, colors, and sizes.
On top of being stylish, there are a few essential traits that I've also made sure all of my picks have. The following factors are essential with any travel backpack:
Durability: There's nothing more frustrating than buying a bag that starts unraveling at the seams or loses a zipper on the first trip. All of these packs are well-made and even the more budget-minded options feature reviews that attest to their overall quality.
Packability: You probably don't want a giant, bulky bag when you're on-the-go. The whole point of a travel backpack is to be able to fit everything in a small space, so while I've included a range of sizes, all of them either fit under airline seats or in the overhead compartment. Of course, they all work well for road and train travel, too.
Organizational Components: Most of us don't want to dump all of our belongings into one giant abyss when we pack. By and large, the backpacks I've picked out offer zippered pockets, mesh sleeves, pouches, and other organizational features that allow you to keep your things neat and tidy.
Without further ado, here are the most fashionable travel backpacks.