The Best Fall Shoes For Walking Commuters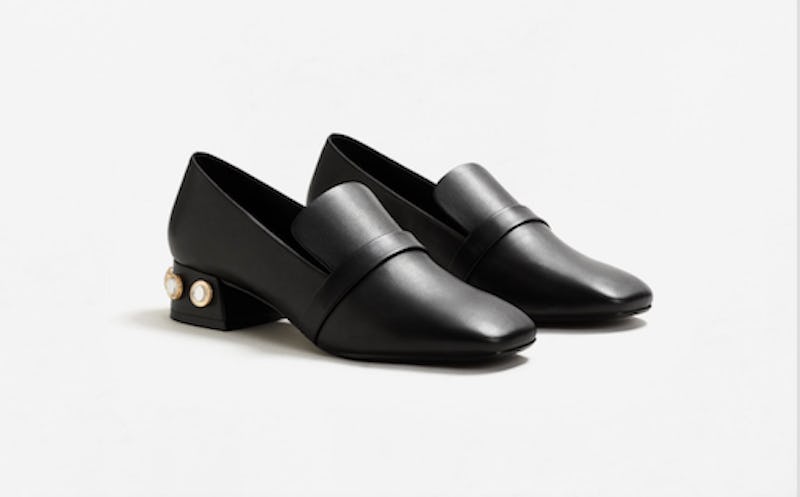 Courtesy Mango
Bustle and Coveteur are working together to bring you the best mix of the season's fashion and beauty releases, shopping tips, and service stories in ways that are both inspirational, and attainable. Check The Fall Style Edit channel weekly to see what we're up to.
With the cooling weather, it's time for many of us to put away the flip-flops and strappy sandals, and instead haul out the heavy boots and clunky loafers. But this shoe turnover can be especially tricky for commuters: They need good fall shoes for commuting, whether that's taking a bike, train, or walking — or else the whole trip will be miserable. Pinched toes, uncomfortable bubbles, and chafed heels have the potential to ruin a day before it even starts, so comfort is key. But lucky for them, this upcoming fall seems to be all about comfort and excess.
While stilettos are always in, there is a special focus on low-to-the-ground looks. Small kitten heels and squat block heels reign supreme, and slides and loafers have gotten a maximalist makeover to make them feel more sartorial and less predictable. Gems decorate booties like antique broaches, sneakers get artistic touches, mules are wrapped in fur, and shoes are coming out in loud shades of velvet. Even if you have to make comfort a priority, that doesn't mean you will be saddled with a boring, practical shoe. Ahead are 15 of the best fall shoes for commuters — arrive to work in style.