Sean Spicer's Most Memorable Press Briefing Moments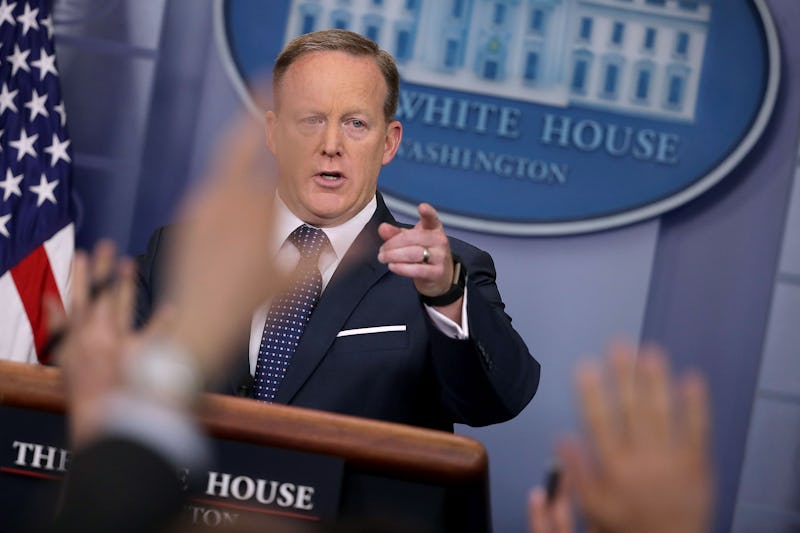 Chip Somodevilla/Getty Images News/Getty Images
News emerged on Monday that President Donald Trump's press secretary may be leaving his position and taking on a more "backstage" role at the White House communications office, as Politico and Bloomberg reported. While Spicer's exit is not yet confirmed, it nonetheless seemed appropriate to look back at Sean Spicer's most memorable press briefing moments, many of which illustrate why the press secretary made such a strong impression in such a short amount of time. UPDATE: On Friday, Sean Spicer resigned as White House press secretary.
As many know, Spicer's tenure as press secretary has received a great deal of attention. Spicer has been criticized for his gaffes, both at the podium and away from it, as well as mocked for his apparent anger during some of his interactions with the press. Indeed, especially early-on in his tenure, Spicer's briefings were considered "ratings gold" for networks, even beating out popular daytime soap operas. It seemed everyone wanted to watch Spicer, for better or worse.
Of course, as many know, Spicer's press briefings also lent themselves to highly popular reoccurring Saturday Night Live skits featuring Melissa McCarthy doing an impression of the press secretary. Indeed, McCarthy's first appearance on SNL as Spicer received record YouTube ratings and constituted the show's most highly-watched YouTube clip ever.
In light of all of the waves Spicer has made over the past six months as well as in anticipation of his possible impending transition to a new position, the following are a compilation of some of the press secretary's more memorable moments and gaffes. While some are more lighthearted, others define moments that certainly do not reflect well on Spicer or the administration, but still came across as amusing because of their absurdity.