The 17 Scariest 'Bird Box' Moments That'll Make You Wish You Had Your Blindfold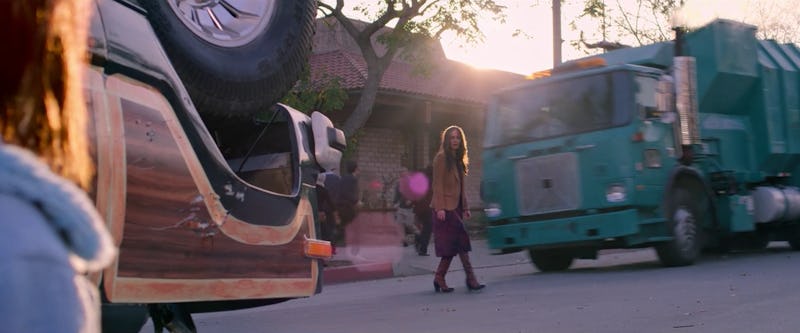 Netflix
Over the holiday season, the Netflix original horror movie Bird Box became a breakout hit. Whether it was family ennui refocused on an easily accessible film with a pile of beloved character actors or that the creepy idea of seeing something so terrible you couldn't survive it seemed appropriate over the break, Bird Box became a surprise talking point on social media, with memes quickly proliferating. And it's continuing to generate discussion well into the new year. But if you can't face it, here are the 17 scariest Bird Box moments — as terrifying to witness as the creatures tormenting Malorie (Sandra Bullock).
For those unfamiliar, Bird Box follows tough and self-sufficient Malorie over two time periods. In flashbacks, she's single and pregnant, retreating from the world and unaware something mysterious is causing violent rashes of suicides all over the world. After the mystery hits home, Malorie holes up in a house with other survivors, and they come to realize there are creatures whose mere sight inspires instant madness and suicidal urges. In the present, she has two children in her care known only as Boy and Girl - there's a small hope for safety, but it means a dangerous river journey entirely blindfolded for all of them. The moments below are some of the scariest as the story weaves between both timelines, and Malorie's toughness becomes both survival tool and the wall preventing her from feeling fully human.
Here's why people can't stop talking about it. Major spoilers ahead.