The 'Call The Midwife' Season Premiere Sheds Light On Domestic Violence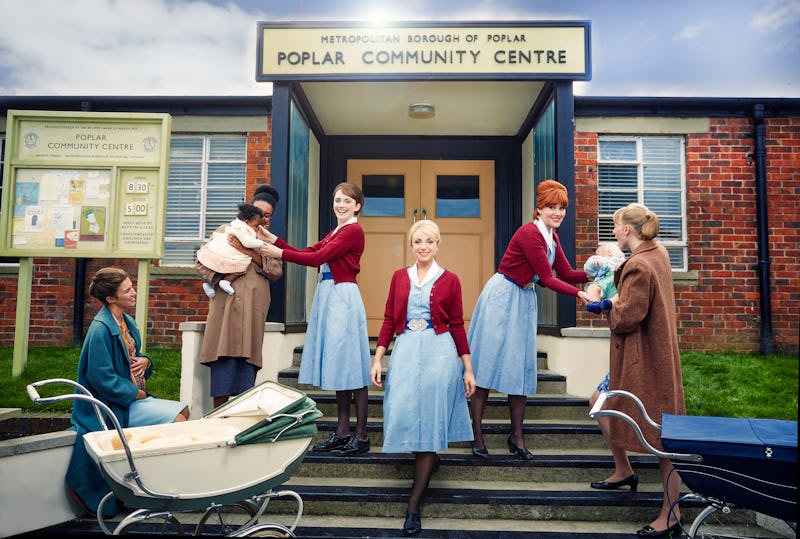 Neal Street Productions 2016
Call The Midwife picks back up with the group returning from Africa and finding major changes at Nonnatus House, like Sister Ursula now being Sister Julienne's superior. While this change will surely affect the rest of Season 6, the true focus of the premiere was an important social justice issue. In fact, this storyline was so prominent, it was the only patient storyline featured in the episode. The Call The Midwife Season 6 premiere addresses domestic violence in a time when divorce laws often blamed or endangered the victim. It was an extremely affecting storyline, and based on real divorce laws in the '60s, a realistic one too.
When Sister Evangelina meets an expectant mother named Trudy at clinic, she doesn't seem to be the one in need of help, as Trudy has been having trouble getting her adorable son, Mickey, into the eye doctor. But, Trudy begins to cry at the thought of obligations she has later in the day that would prevent her from bringing Mickey to the doctor once Sister Evangelina helps her and it turns out, her obligation is picking her husband, Lester, up from prison.
Lester is a connected boxer in town and his true character is quickly revealed. He hits his wife in front of Mickey, is emotionally abusive, and sexual assault is alluded to. Things come to a head when the nuns check in to make sure Mickey gets to an eye appointment and discover that Lester has removed him from school and is forcing him to box, as well as emotionally and physically abusing him. When Trudy confronts her husband about this, he burns her with a cigarette multiple times, beats her, and locks her in a bedroom. The brutal scene is hard to watch, but when Trudy goes into labor, she manages to escape the horrifying situation with Mickey in tow.
Trudy gives birth at Nonnatus House and decides it is time to divorce her husband. She begins the process, changing the locks and getting a lawyer, and Lester reacts violently to this. But, in 1962, Trudy's history of depression was legally seen as a mental illness that could cause her abusive husband to get custody, the house, everything. Things look dark for Trudy when the law is not on her side and the he said, she said falls in Lester's favor. Trudy contemplates putting her children in foster care and suicide to save them from their father. Sister Evangelina, in the end, is able to help Trudy get to a shelter with her children. And, the story ends happy when the family of three is rehoused.
As a millennial, it is easy to forget the legal barriers women were up against in such recent history. But, it is very important to acknowledge, especially because domestic violence is still a reality for many women. The Indiana Coalition Against Domestic Violence offers a detailed timeline of the "History of Battered Women's Movement" and some of the information is truly shocking:
1962: In New York, domestic violence cases are transferred from Criminal Court to Family Court where only civil procedures apply. The husband never faces the harsher penalties he would suffer if found guilty in Criminal Court for assaulting a stranger.
1966: Beating, as cruel and inhumane treatment, becomes grounds for divorce in New York, but the plaintiff must establish that a "sufficient" number of beatings have taken place.
1967: The state of Maine opens one of the first shelters in the United States.
1968: The Harris poll interviews 1,176 American adults in October. They find that 1/5 approve of slapping one's spouse on "appropriate occasions."
1969: California adopts a no-fault divorce law by which either partner can request and obtain a divorce without fear of being contested by the other party.
Early 1970s: In Chicago, like many other cities, married battered women who leave their husbands are denied welfare due to their husbands' income.
More shelters opened in the 1970s and the movement to help victims of domestic violence gained momentum. While this movement led to the laws and programs currently in place to help American women, the issue of domestic violence is still prevalent in our country. According to a 2010 study from the CDC, one in four women have experienced severe violence from a partner.
It is still hard for these women to leave their abusers despite legal progress for many reasons, including financial issues, fear, perceived stigmas, and manipulation from the abuser. The 2017 PSA below (produced for Interval house, a Canadian center for abused women and children) states that it takes an average of five attempts to leave an abusive partner. In 2013, Katie Ray-Jones, the CEO of the National Domestic Violence Hotline, told CNN that an abused women will leave the relationship approximately seven times before leaving permanently.
In 2014, Time reported that the limitations of leaving an abusive situation are both psychological and physical, and described the "psychological terrorism" that can keep women from leaving, including withholding food, sleep deprivation, isolation, extortion, violence, and rape. The article also reported that "over 70 percent of domestic violence murders happen after the victim has left the relationship."
While Trudy's issues may not be exactly the same as those modern women face thanks to improvements in the legal system, they aren't so different. But regardless of the time period, there is one message that holds true: people are here to help. Just like Sister Evangelina could help connect Trudy with services, there are even more networks and hotlines available to help women now. If you are someone you know needs help, you can learn more at nomore.org or call the National Domestic Violence Hotline at 1-800-799-SAFE (7233).