The Golden Globes Will Include A Powerful Tribute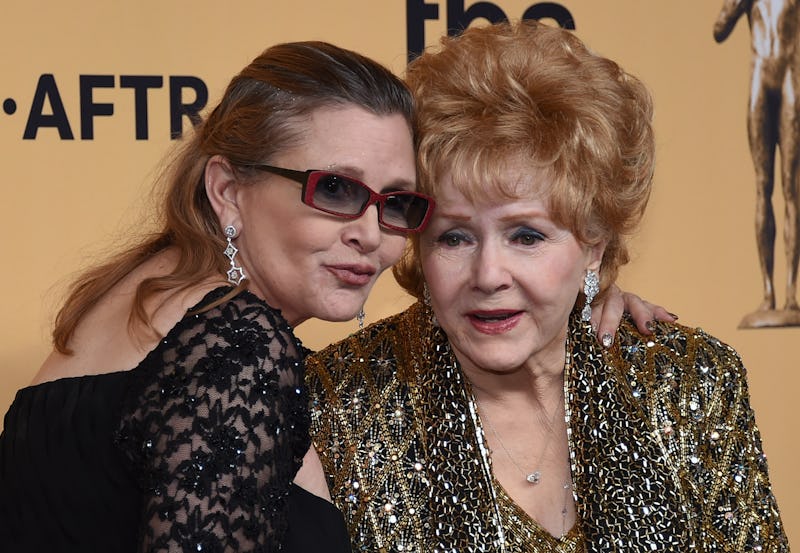 Ethan Miller/Getty Images Entertainment/Getty Images
From Carrie Fisher and Debbie Reynolds to Gene Wilder and Prince, Hollywood lost too many of its brightest stars in 2016. So many in fact, that in an unprecedented move, the Golden Globes will pay tribute to celebrities who have recently died during its 74th annual broadcast, according to the show's producer Barry Adelman. These stars may be gone, but they certainly will not be forgotten by the Hollywood Foreign Press Association. In an interview with People on Wednesday, Adelman, said,
"We have not done an 'In Memoriam' on the Golden Globes. Those things are handled really well by the Oscars and the Screen Actors Guild. But we do realize there were some special circumstances of very recent nature that happened and I think we'll be acknowledging that."
The show's producer didn't elaborate on how exactly the awards show, which kicks off the 2017 awards season, will honor those who passed away last year. Or, how many people it will honor. Adelman told Variety the show is specifically interested in honoring those who have passed away in the past month. But the Golden Globes' website hints at who may be honored during the Sunday, Jan. 8 telecast. While the award show doesn't typically air an In Memoriam segment, the Hollywood Foreign Press Association does honor the celebrities that have passed away on its website. In 2016, the site published tributes to those who have either won or been nominated for Golden Globes for their work on the big and small screen.
The site published multiple tributes to Reynolds, who was a five-time Golden Globe nominee. They remembered Zsa Zsa Gabor, who won a special Golden Globe in 1958 for "the most glamorous actress." They celebrated the career of TV dad Alan Thicke, who was nominated in 1988 for his iconic role of Jason Seaver on the sitcom Growing Pains. The website honored veteran actor and Golden Globe nominee Gene Wilder; director Garry Marshall, who won Globes of his own while also helping others land theirs; and Golden Globe winner Alan Rickman, who took home the prize for Best Performance by an Actor in a Mini-Series or Motion Picture Made for Television for 2007's Rasputin: Dark Servant of Destiny on HBO.
When you look at the Golden Globes' In Memoriam page it is easy to see who is missing: Carrie Fisher, who was honored by the Globes website, but was not featured on the show's In Memoriam page. Fisher was never nominated for a Golden Globe, but there is no doubt that she will be part of the show's upcoming tribute, being that the show's producer mentioned her and her mother by name.
What the show doesn't want is for this tribute to be a sad reminder of those Hollywood has lost. "We've always kept the show as a celebration and as a party, and yet we realize this is a special circumstance — certainly with the recent passings of Carrie Fisher and Debbie Reynolds," Adelman told Variety. "So we're going to acknowledge it, but we're still in discussion with exactly how we're going to do that."
Tune in Sunday to see how these legends are honored. It's bound to be heartbreaking, but worthwhile.