Here Are All The Funny, Shocking & Super Bizarre Emmys Moments You Missed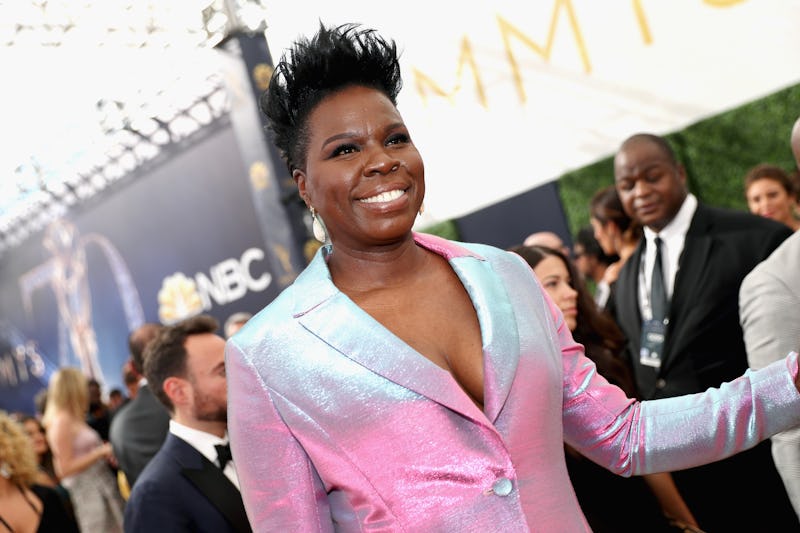 Rich Polk/Getty Images Entertainment/Getty Images
Despite the momentum with which TV fans are apt to meme and comment on live events, not everything gets the attention it deserves on nights with so many stars and so much going on. Even some of the more stunning fashion choices missed their time in the spotlight. The moments you missed at the 2018 Emmy Awards include a shocking cameo that borders on performance art as well as some other sneaky reactions and awkward moments.
For one thing, we all missed a bunch of amazing Emmy moments that happened two weeks ago at the Creative Arts Emmys. Did you know that Kenan Thompson is an Emmy winner now? John Legend, Andrew Lloyd Webber, and Tim Rice all joined the EGOT club, and Samira Wiley took home a trophy for The Handmaid's Tale. Other Creative Arts Emmys went to Tiffany Haddish for Saturday Night Live, the Black Mirror episode "U.S.S. Callister," and your dad's favorite late night show Last Week Tonight With John Oliver.
Now that the main event is underway, what have you missed? Between the awkward moments on the red carpet, the unappreciated jokes from hosts Colin Jost and Michael Che, and the way current events permeated the evening, it was hard to keep track of everything. There are even some social media updates from those in the room that shed light on what's really going on. Here's what may have slipped by even the most eagle eyed viewers.
Donald Glover Showed Up As Teddy Perkins
Then, mere moments later, he re-appeared as himself. Is Childish Gambino a witch? Discuss.
Thandie Newton's Feminist Shoutout
"I don't even believe in God," said the Westworld winner, "but I'm gonna thank her tonight."
Barry
Have you guys seen that show? Sounds like it's pretty good!
Aunt Lydia's Group Cuddle
Who needs Emmys when you can hug it out with Alexis Bledel?
Jesse Plemmons' Moustache
Nobody saw that 'stache coming, and these two met making Fargo.
Sandra Oh Helping Her Parents Live Their Best Lives
In that moment we were all Sandra Oh's mom.
Colbert Nation's Need To Be Heard
Yes, the audience was cheering "Stephen, Stephen, Stephen!"
This Fictional Character
Same.
Leslie Jones' Behind The Scenes Videos
Though honestly, if you're not following Jones on social media at this point, you only have yourself to blame.
Amy Sherman-Palladino Broke A Record
In the words of Jonathan Van Ness, can you believe? The Marvelous Mrs. Maisel creator is the first woman to win for comedy writing and directing in 70 years of directing. Important caveat, because she is not the first woman to win in either category by far: recently in 2017 Lena Waithe was the first African American woman to win for writing, an award she shared with Aziz Ansari for Master of None. Tina Fey and Tracy Wigfield shared a win for 30 Rock in 2013. Fey has one before, as has Ellen DeGeneres. For comedy directing, both Transparent's Jill Soloway and Modern Family's Gail Mancuso have several trophies.
Still, this is a pretty cool record that Palladino just broke and a fun fact to share with those who may have missed it — along with these other hidden Emmy gems!