Here's How To Stream The 2018 Emmy Awards & Red Carpet So You Don't Miss A Thing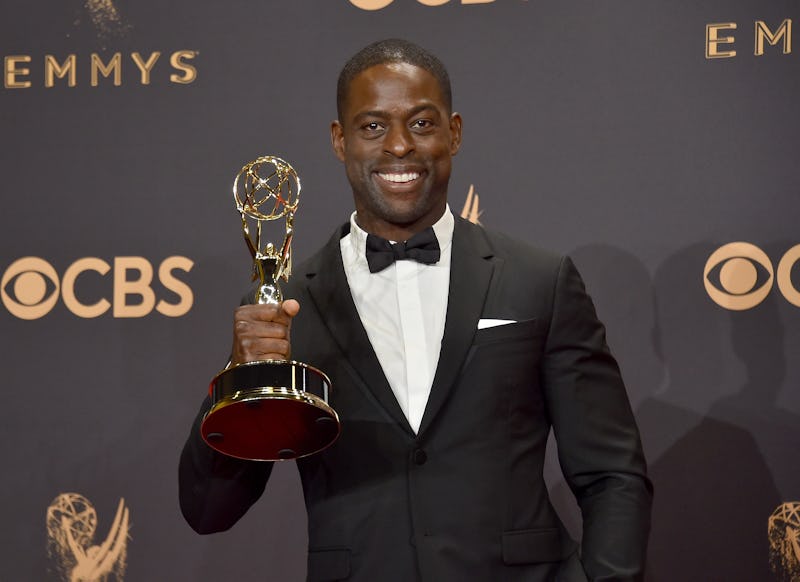 Alberto E. Rodriguez/Getty Images Entertainment/Getty Images
It's that time of the year again — when all of your favorite television shows are recognized and awarded for entertaining you on all of your lazy weekends. This year, Netflix is sweeping the nominations over the usual champ, HBO, so it's bound to be a nail biting, emotional rollercoaster of an occasion. That's why you should be prepared, and know how to stream the 2018 Emmys so you can stay up to date on the winners. Because no one wants to miss a Sterling K. Brown acceptance speech.
Emotions will surely be high, but viewers are also guarunteed some laughs, given this year's hosts. Long-standing comedic duo, Saturday Night Live's Michael Che and Colin Jost will be leading the charge, offering welcomed and necessary comic relief, as they do. Outside of some of Netflix's most marathon-worthy shows, like Grace and Frankie and Stranger Things, some other notable nominations include Killing Eve's Sandra Oh for Outstanding Lead Actress in a Drama Series (for which she would be the first female Asian-American victor), This is Us for multiple categories, and Game of Thrones for the most nominations for a single show above all, according to CNet.
It's been a year of great television, so it's a tight competition for the shiny gold statues, so you won't want to miss a single moment. But, if your watching situation is like that of many modern households, you might not be able to watch with the click of one button on a TV remote. Don't worry — you'll still be able to watch.
To stream the 2018 Emmys on Sept. 17 at 8 p.m. ET, you have a few different options. The first and most direct option is to livestream the show on NBC's website or mobile app, as NBC is hosting the show this year, according to CNet. With that, there are a couple of catches. The NBC stream does require a cable provider login ("Heyyyy, Mom!") and the stream is only available in certain areas across the country.
According to NBC's website, the awards will be available to live stream in New York City, Los Angeles, Chicago, Philadelphia, Boston, Washington, D.C., Hartford, Dallas, Miami, San Francisco, San Diego and Bristol, Virginia. So if you don't reside in one of those areas, you can check the NBC method off your list. But don't freak out just yet. There are still other opportunities for you to ugly cry during the live acceptance speeches.
You can watch NBC live if you subscribe to one of the many available TV streaming services, including Hulu Live ($39.99 per month), YouTube TV ($40 per month), DirectTV Now ($35 per month), PlayStation Vue ($39.99 per month), and Sling TV ($20 per month). If you don't currently subscribe to one, nothing's stopping you from setting up a free trial to see your favorite celebs dressed up for a night of awards. Just remember to set a reminder for yourself to cancel the automatic payment after seven days so your bank account doesn't take an unnecessary hit. I won't tell.
For the fashionistas and celeb-obsessed out there who only watch for the red carpet, you can stream that, too. Just download the People TV app or head over to EW.com for their tried and true coverage. The red carpet rolls out at 6 p.m. ET, so make sure you're prepared for a long night of TV watching ahead.