The Performers At The Olympics Closing Ceremony Will Showcase K-Pop That You'll Love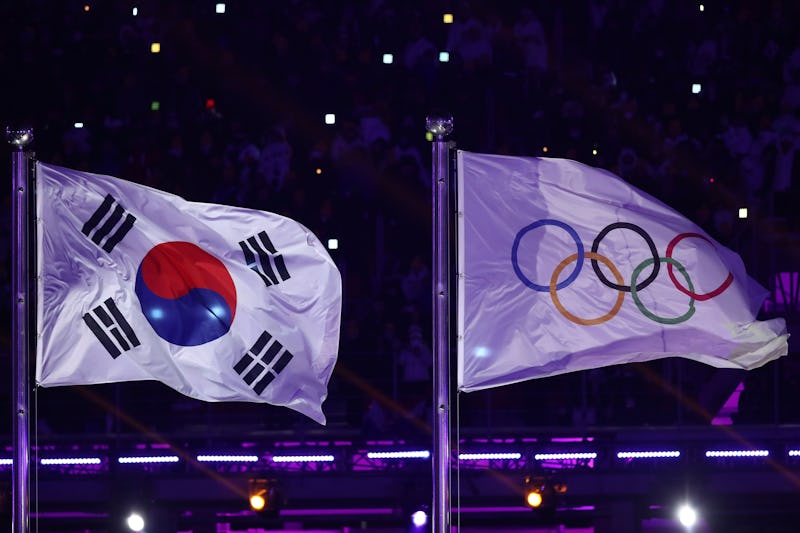 Ronald Martinez/Getty Images Sport/Getty Images
The 2018 Winter Olympics kicked off in PyeongChang, South Korea, giving rise to the biennial, fan-fueled madness that often goes hand-in-hand with the onset of the world's premier sporting competition. Still, as much as they're enjoying the competitions, eager viewers are also buzzing about the games' grand finale. Namely, the question of who's performing at the 2018 Olympic closing ceremony is at the forefront of many people's minds. Because, as is customary when it comes to widely popularized athletic events, enthusiastic viewers tend to be just about as concerned with the "who's who" of a high-profile game's performance roster as they are with the details of the sporting event itself.
Much like the 2018 Winter Olympics' opening ceremony, which was broadcast live from PyeongChang on Feb. 9, the upcoming closing ceremony is, quite appropriately, a sort of ode to the South Korean music scene. According to recent reports, this year's closing ceremony will feature a stacked roster of K-Pop acts, as well as a handful of other South Korean performers whose respective talents collectively span a pretty wide array of musical genres. Though only two acts are currently confirmed, there are plenty of rumors about who else we'll get to see on that stage.
First up will be EXO, the wildly popular K-Pop boy band based out of Seoul. (Russian figure skater Evgenia Medvedeva has admitted that she is a huge fan.) The closing ceremony will reportedly also feature a performance by CL (real name: Lee Chae-rin), a spitfire South Korean rapper who got her start as part of the breakout K-Pop girl group, 2ne1, which has since disbanded.
The two K-Pop luminaries are reportedly expected to share the stage with several other musicians hailing from South Korea, including Korean-American singer-songwriter Ailee, who is slated to perform her 2017 chart-topping single (which reaped wide critical acclaim in addition to its commercial success), "I Will Go To You Like The First Snow." Ailee's track originally made its debut in conjunction with the South Korean cable television series, Guardian: The Lonely and Great God. Singer MILCK will also reportedly perform her critically-lauded track, "Quiet," during the ceremony. (For anyone who either attended, or is generally familiar with, the Women's March in New York City last month, MILCK's live performance of "Quiet" is probably the one that that brought tears to your eyes.)
And, to wrap up the closing ceremony's line-up, classical singer Sumi Jo will reportedly team up with gospel artist Sohyang and guitarist Frederico Paciotti for a two-song finale performance. Jo, a South Korean-born classical soprano whose lilting vocal chops earned her a Grammy Award, served as an honorary ambassador during this year's Olympic games.
The 2018 Winter Olympics closing ceremony will take place Sunday, Feb. 25, at Pyeongchang Olympic Stadium. Viewers can gain access to the evening's hour-long festivities through a number of means, including NBC's televised broadcast, live stream, and/or supported video streaming platforms. In addition to the upcoming closing ceremony's performance roster, the event will also have time-old Olympic traditions — like the symbolic passing of the Olympic flag. This year, Shim Jae-kook (PyeongChang's mayor) will pass the Olympic flag to the mayor of its next host city. Since Beijing is set to host the next Winter Olympics, that means Beijing mayor Chen Jining is set to ceremoniously receive the flag.
But, for those Winter Olympics fans who are more interested in the ceremony's celebration of K-Pop than centuries-old tradition, it looks like there will be plenty of that to go around. And, if the epic K-Pop presence during this year's opening ceremony is any indication of what's to come, it's probably safe to expect a series of finale performances fit for a champion. (Or, in this case, a whole lot of them.)