"Gangnam Style" Showed Up At The Opening Ceremony & Twitter's Reaction Was Priceless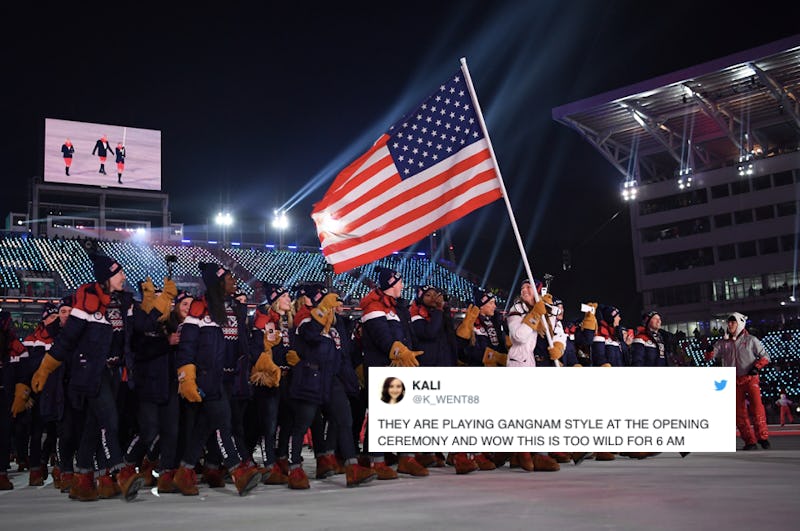 Quinn Rooney/Getty Images Sport/Getty Images
It's official: the 2018 Winter Olympics have begun. The opening ceremony in PyeongChang gave an epic start to the games, featuring lots of amazing performers, tons of beautiful visuals, and even a shirtless re-appearance by the Tonga flag bearer, Pita Taufatofua. One of the greatest moments of the ceremony, though, is watching some of the world's best athletes proudly march into the stadium, and this year was no exception. But possibly the best part of the 2018 opening ceremony was when Psy's 2012 hit song "Gangnam Style" played during what felt like most of the Parade of Nations, including while Team USA walked out, and everyone started dancing to it. And of course, Twitter had a lot of feelings (and memes) about it.
Many weren't surprised that "Gangnam Style" played during the ceremony. Psy is a popular South Korean musician, and "Gangnam Style" was a huge international hit. It seemed only natural that the song would play at least once, and that it did. What made the whole thing even more unusual? As Team USA walked out and danced to the song, the camera panned to Vice President Mike Pence waving to the team. Not exactly the visual you may have imagined, but hey, anything can happen.
As usual, Twitter users made this moment even funnier with some astute observations. Check out some of the funniest tweets and memes about "Gangnam Style" making an appearance at the opening ceremony.
1. The Hype Is So Real
People were so pumped.
2. True Art Is Ageless
It is truly the gift that just keeps giving.
3. DJ, Play It Again
Long live "Gangnam Style."
4. A Historic Moment
There are worse songs, TBH.
5. Honestly, We Can All Go Home Now
Nothing left to see here, people.
6. Going For The Gold
They should feel honored.
7. But TBH, We Were All Slightly Robbed
It was a missed opportunity for sure.
8. Most Twitter Users Were Not Surprised
Although we didn't know for sure that "Gangnam Style" would play, it seemed pretty inevitable.
9. Some People Who Were Livestreaming The Event Felt It Was Way Too Early For That Kind Of Excitement
Honestly, though? It's never too early for "Gangnam Style."
10. Many Included It As One Of The Best Parts Of The Ceremony
You can't say this song didn't bring some energy with it.
11. Twitter Loved The Dancers
Because you can't play "Gangnam Style" without doing the dance as well.
12. Many Were Counting Down To The Song
It was bound to happen!
13. Some Took Note Of Mike Pence's Actions
OK, Pence didn't actually do anything but wave, but you don't exactly associate him and his views with a song and music video like "Gangnam Style." That's exactly what made the situation so hilarious.
14. Some Users Were NOT Happy
Guess they just can't get down with Psy!
15. Like, Not Happy At All
Some Twitter users felt that South Korean music has a lot more to offer than just "Gangnam Style," but still — it's hard to ignore a song as tremendously popular as this one.
16. And Some Just Felt Like It Was Too Much
It may have played a little bit longer than necessary, but who's complaining?
17. But Others Thought It Was The Perfect Fit
Honestly, I'm not up for a run after this, but I can appreciate the sentiment.
18. Some Thought Psy Should Have Performed Live
The performers at this year's ceremony were incredible, but that said, it would have been pretty epic to see Psy up there as well.
19. Still, The Crowd Loved It
The song was an undeniable crowd-pleaser, even if you're not a fan of it.
20. And Plenty Of Users Were Excited
How could you not be?
21. Because Really, What Would The Games Be Without It?
While "Gangnam Style" might not be the most sophisticated music to come out of South Korea, it's hard to deny its appeal, as well as its ability to get people dancing. Here's to hoping we'll hear the song at another point during the Olympic Games — but even if we don't, at least we can rewatch the music video on YouTube all we want.