It's Your Absolute Last Chance To Register To Vote In These 14 States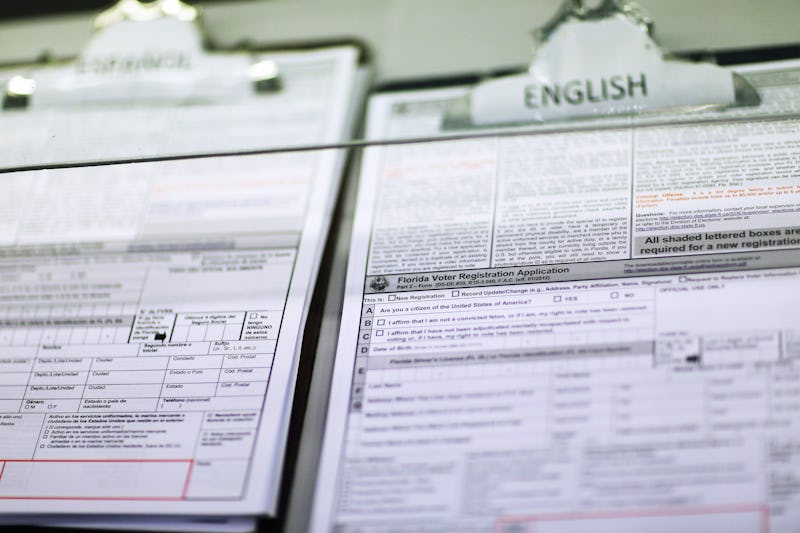 Joe Raedle/Getty Images News/Getty Images
The 2018 midterms — on Nov. 6 —has been framed as one of the most important elections in recent history. And if you want to participate, odds are you'll have to register first (save those lucky North Dakotans). Time might be running short, even very short. All but 12 states and D.C. require advance voter registration, and the 2018 voter registration deadline has arrived in 14 states as of Tuesday, Oct. 9. But you still have several hours to make it happen.
Arizona, Arkansas, Florida, Georgia, Indiana, Kentucky, Michigan, Mississippi, New Mexico, Ohio, Pennsylvania, Tennessee, and Texas all set Tuesday, Oct. 9, 2018 as this year's deadline. If you live in Louisiana, Tuesday is also the last day to register in person or by mail — although online registrations remain open for one more week.
Many of the states offer an online, painless option. And nearly all of them let you mail in a form postmarked Oct. 9. Scroll down below to check the rules in your state specifically. There are links to the secretary of state, board of elections, or other relevant body.
If you're reading this and know you've registered, experts suggest you double check. You can have your registration confirmed for peace of mind — and find out if your state offers early voting, to have one less thing to worry about when the lines are long in November.