This 1000+ Page Novel Is Mostly Told In One Sentence & It Could Win The Booker Prize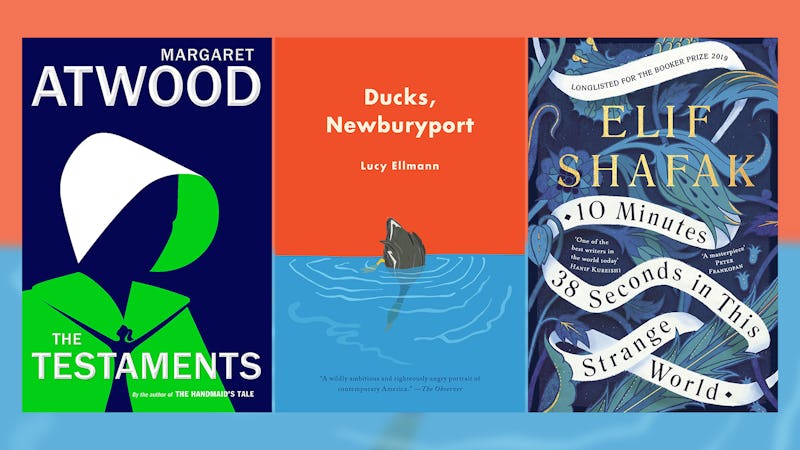 Book awards season is shifting into high gear, folks. The six books on the 2019 Booker Prize shortlist were announced Tuesday morning, and you're going to want to read as many of them as possible before the 2019 Booker Prize winner is revealed on Oct. 14. I've got everything you need to know about this year's Booker candidates below, so keep reading to find out more about English literature's greatest achievements from the past year.
Margaret Atwood fans will be happy to know that the sequel to The Handmaid's Tale, titled The Testaments, is still in the running for the 2019 Booker Prize and its £50,000 (around $61,000) monetary award. Also among the contenders is Lucy Ellmann's inventive novel, Ducks, Newburyport — a novel that's over 1,000 pages long and mostly told in one sentence. The authors of the six books on the 2019 Booker Prize shortlist will receive £2,500 (about $3,000) each.
Released back in June, the 2019 Booker Prize longlist contained 13 books, each with the potential to take home both the literary award and the £50,000. Thanks to the Tuesday-morning announcement, readers now know which of those longlisted titles are no longer eligible to receive the 2019 Booker Prize. The eliminated novels are:
Night Boat to Tangier by Kevin Barry
My Sister, the Serial Killer by Oyinkan Braithwaite
The Wall by John Lanchester
The Man Who Saw Everything by Deborah Levy
Lost Children Archive by Valeria Luiselli
Lanny by Max Porter
Frankissstein by Jeanette Winterson
Here are the six books on the 2019 Booker Prize shortlist. Look for the announcement of this year's Booker Prize winner on Oct. 14.