21 Trans Visibility Day Tweets That Will Inspire You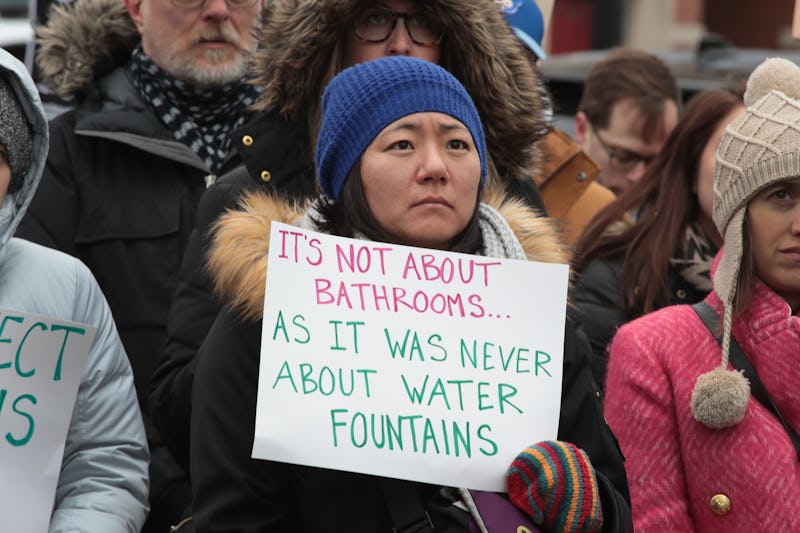 Scott Olson/Getty Images News/Getty Images
On Friday, March 31 we celebrate International Transgender Visibility Day. Created in 2009, the holiday was meant as a solution to the lack of inclusive celebrations for transgender people within the LGBT community. A day was needed to highlight the successes of transgender people around the world. Since its creation, International Trans Visibility Day has been dedicated to honoring leaders in the trans community, raising awareness of victories, and remembering all of the work that has yet to be done, according to the Trans Day of Visibility website. The theme this year is trans resistance, specifically focusing on creating direct action to counter transphobia.
This is incredibly important considering the United States is currently under an administration which is working to remove laws which protect trans rights. On top of government pushback, the trans community has also faced exclusion within the LGBT rights movement and the feminist movement. This needs to stop, and Trans Visibility Day stands as a reminder of how the community is under-supported.
So use this day as an opportunity to stand as a friend in this fight or, if you are transgender yourself, keep being unapologetically you. There are plenty of ways to show your support, with one being the main Trans Visibility Day event, taking place in San Francisco on the evening of March 31. Not in the area? A live stream will also be available through their Facebook page. Read on for more inspiring messages and advice on how to help elevate this amazing community.