These Essential Oil Sets Are Perfect For Any Self-Care Routine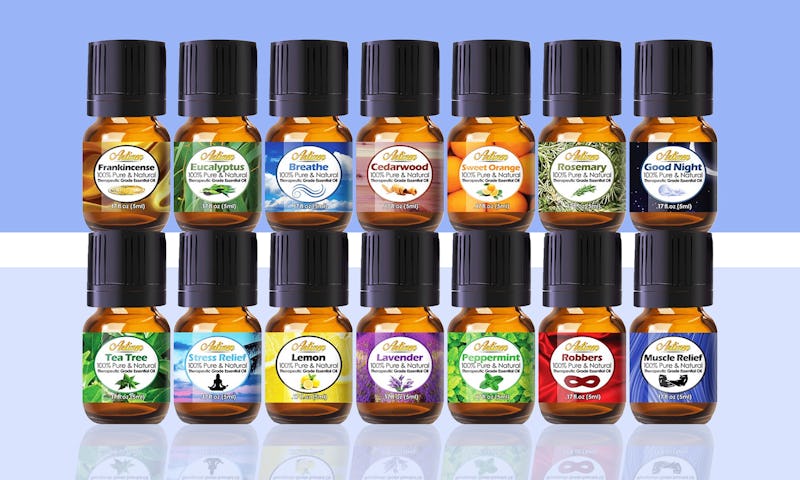 Amazon
Aromatherapy oils have become very popular in the area of self-care, thanks to their affordability, convenience, and calming effects. While there are numerous types of individual essential oils you can choose from, the way to get the most value out of your investment is by looking for the best aromatherapy oil sets, which will have a varied selection of pure oils, blended oils, or a combination of the two.
Each essential oil achieves its characteristic 'essence' through the chemical and aromatic properties of the plant it's naturally extracted from. Many people believe that essential oils can contribute to our physical, mental, and emotional wellbeing by working with our bodies' own natural processes – and while there is already some research out there affirming the positive effects of aromatherapy, more studies need to be completed in order for us to fully understand the medical benefits of essential oils.
Every essential oil has its own unique list of potential benifts, such as lavender, which is frequently used for stress relief, or lemon, which many people use to relieve headaches. However, because a large part of the experience depends on the individual, there is no definitive list that specifies which essential oil should be used for which issue. This is why an aromatherapy oil set is a great option — you'll have a wide assortment of pure oils and/or blends to experiment with, in order to decide which ones provide you personally with positive effects.
The best (and most common) options for your body to absorb the therapeutic elements of essential oils is a combination of inhaling them through the nose and absorbing them through the surface of the skin. Although there are a few different ways of doing this, such as adding a few drops of oil to your bath or putting a few drops on a tissue and slowly inhaling, one of the simplest ways to implement aromatherapy into your regular routine is by using an essential oil diffuser. The diffuser will work by breaking down the essential oil into tiny particles, which then get dispersed throughout the room in a waterless mist.
No matter how you decide to implement aromatherapy in your self-care routine, here are three of the most popular and well-reviewed essential oil sets out there, so you can choose the best aromatherapy oil set for you.