3 At-Home Espresso Machines For Cafe-Quality Drinks Without Leaving Your House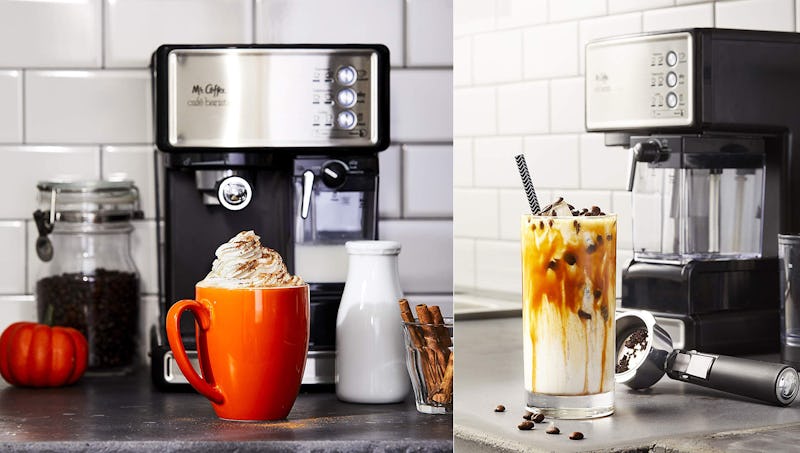 Amazon
At-home espresso machines give you the tools to make barista-quality coffee drinks without a trip to the café. But let's face it, an espresso machine is an investment, and there's the inevitable learning curve to pulling the perfect shot. Fortunately, the best at-home espresso machines don't require a lot of practice to operate, and, if you can live without some premium features, won't break the bank. Here are a few things to keep in mind when deciding which of the best at-home espresso machines is right for you.
An easy way to find a more affordable at-home espresso machine? Opt for one without a built-in grinder. By doing a bit of the work yourself — including grinding your own beans, dosing, and tamping the grounds — you'll save money and get more of a hands-on experience. If you're looking for more convenience, simply use pre-ground coffee, or go for a machine that accepts pre-dosed pods.
Machines with simple dials and displays will take the guesswork out of making consistent espresso. For the most versatility, look for an espresso machine that allows you to brew one or two shots, and guides you in making milk-based drinks like cappuccinos and lattes. Depending on which types of drinks you enjoy, you may prefer a machine with an external frothing wand or a built-in milk tank.
If you want a foolproof way to make your favorite barista creations in your own kitchen, the best at-home espresso machines below offer the perfect blend of technology and convenience.
Bustle may receive a portion of sales from products purchased from this article, which was created independently of Bustle's editorial and sales departments.
This article was originally published on