From Dry Skin To Allergies, These Are The Best Shampoos For An Itchy Pooch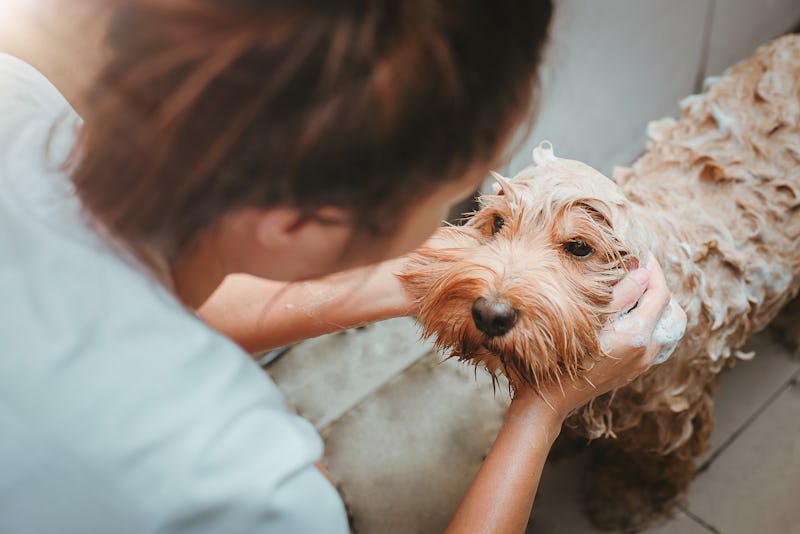 MT.PHOTOSTOCK / Shutterstock
Dog itchiness is a common problem and while the itching is certainly bothersome to both you and your pet, the best dog shampoos for itchy skin can help provide some relief. About 40% of vet visits are because of a skin issue, which can happen for a number of different reasons: Your pooch may have an allergy, dry skin (especially in the chillier months), or come into contact with fleas or other parasites, among other causes. No matter the cause, though, excessive itching can lead to skin irritation like hot spots and other problems, so it's important to help your pooch as much as you can. However, it's always a good idea to bring your dog to the vet to determine the cause of moderate to severe itching and rule out any serious concerns.
How To Pick A Shampoo For Your Dog's Itchy Skin
To help with your dog's itchy skin, it's generally a good idea to pick a shampoo that has gentle, soothing ingredients such as oatmeal or aloe. Look for a shampoo that is also free of artificial fragrances, which can be irritating.
For certain skin problems, including hot spots, consider a medicated pet shampoo. However, it's important to select a medicated shampoo suited to your dog's specific needs (and the vet can certainly help you with that). I've included a pick here that is ideal for helping with seborrhea, parasitic infections, and fungal and bacterial infections.
If fleas, ticks, or other parasites are the root cause of your dog's itchy skin, look for a shampoo that is specifically designed to kill these pests (and prevent them in the future) and also has ingredients to soothe irritated skin.
To help your sweet pooch get relief whether it's an allergy or dryness, here are three dog shampoos that are designed to suit itchy skin.