These Electric Air Fresheners Keep Your Home Smelling Great With Minimal Effort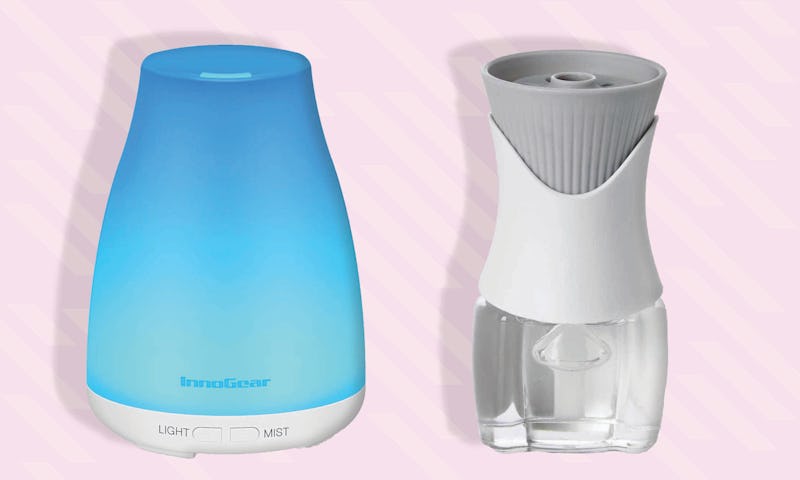 Amazon / Bustle
To keep your home smelling clean and fresh with minimal effort, you'll want one of the best electric air fresheners. They're super convenient and easy to use. Most work with built-in fans that help purify or fragrance a whole room.
There are all types of electric air fresheners. The most common are the small and powerful kinds that sit directly in your outlet dispersing scents from oil or gel. These come in a variety of scents from soothing lavender and chamomile to vibrant fruity tropical scents.
If you prefer a more natural approach, aromatherapy essential oil diffusers are also a great option. By curating your essential oils to your mood, you can help boost your mood as well as how your home smells. For example, according to Marlynn Wei M.D., J.D., in Psychology Today, lavender may help with "mild insomnia and provide better quality of sleep." Peppermint, sandalwood, and tea tree are also popular. Many suggest that they can boost energy, calm the nerves, and even improve immunity. Some diffusers also double as mini humidifiers, making them perfect additions to your bedroom nightstand or another room to help with dry skin and congestion.
If you'd prefer an unscented option, carbon-filter air purifiers neutralize odors without having to add scent. The best ones have an indicator light so you know when it's time to freshen it up.
For eliminating unpleasant odors in your home, here's my list of the best electric air fresheners on Amazon. All of these top-rated units help to leave any room fresh and smelling great.