Electric Woks Exist & They're Perfect For Stir-frying Up A Storm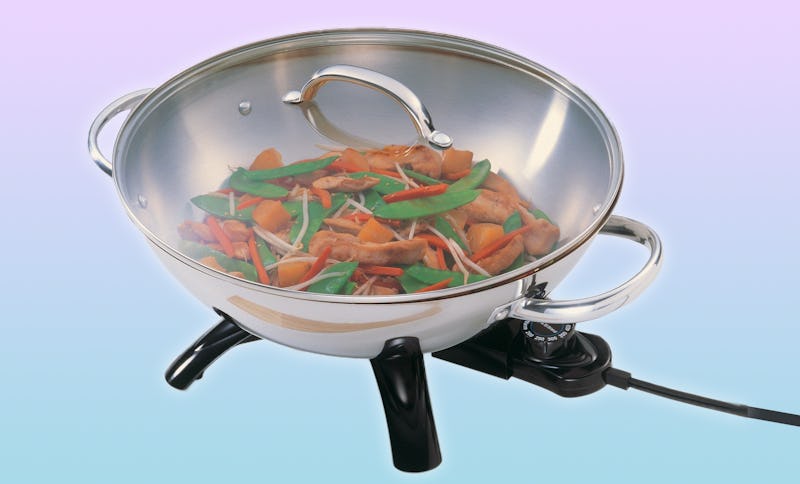 Bustle/Amazon
When you're in the market for one of the best electric woks, there are a number of things to know off the bat.
The average electric wok ranges from roughly 4.5 to 7 quarts in size.
You'll want to buy one that has a non-stick coating, preferably not made of Teflon, which can peel off and be hazardous to your health and the safety of your food.
Beyond size and protective coating, the biggest decision you'll need to make is your budget. In your search, you'll find that there is a wide gap in price between the most affordable options and the absolute best electric woks out there. While, yes, affordable starter models can cost as little as $50, top-tier woks can run up to $400 in price. What's the difference between the top-of-the-line woks and their more affordable counterparts?
The biggest difference you'll find is in the evenness with which they cook your food. More expensive models will often also come with additional temperature controls, and be constructed with higher-quality materials. So, consider now whether you are looking for the absolute best cooking experience money can buy, or if you'd rather purchase a starter wok that can still get the job done.
To help you out pick out the best electric wok for you, I sifted through dozens of high-rated options to determine the absolute best ones out there. Keep scrolling. The perfect wok is waiting right below.