These Are The Best External Wi-Fi Adapters You Can Get On Amazon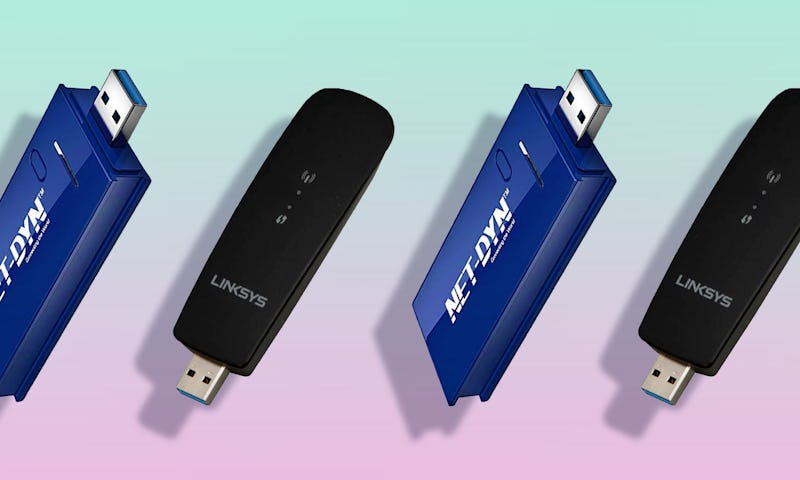 Amazon/Bustle
When you have a laptop or PC with a weak Wi-Fi signal, it might be time to invest in the best external Wi-Fi Adapter to speed things up. External Wi-Fi adapters are a quick and straightforward solution to most connectivity issues. They're easy to install and connect to your home's current wireless network (or any Wi-Fi hotspot within range).
Though most of these handy adapters look similar, aesthetics don't necessarily mean that they'll all function the same. So, if you want to pick the best one to remedy your connectivity issues, you'll want to ensure your pick ticks a few must-have boxes. Also, a quick note: Your connection speed depends on the type of USB port on your laptop or PC. The average speed for a USB 3 port is 640 megabits per second, while USB 2 ports boast a standard speed of 60 megabits per second.
What To Look For In An External Wi-Fi Adapter
A wireless frequency strength of at least 2.4 gigahertz or 5 gigahertz. If you don't have lots of other wireless devices connected to your network, 2.4-gigahertz frequency is ideal, but you'd want to opt for the 5-gigahertz frequency for a stronger signal.
A compact size. The best external Wi-Fi adapters are small enough to avoid blocking any additional ports on your device.
Without further ado, here are my picks for the best adapters Amazon has to offer. They're all relatively small and made to plug and play!