For Better Tasting, Purer Water, You'll Want One Of These Customer-Approved Filters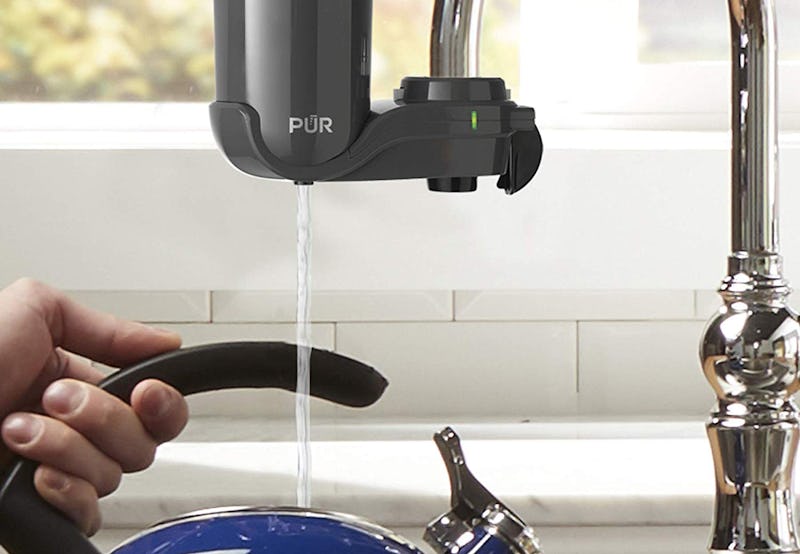 Amazon
Whether you're looking for a cost-effective and more environmentally friendly alternative to bottled water or just want to enhance the taste of your water and remove contaminants, it's smart to turn to one of the best faucet water filters. The EPA has standards set for more than 90 different potential contaminants that can appear in public drinking water, and while water filters won't guard against everything, these are an easy way to help reduce the number of impurities in your drinking water.
The easiest to install type are charcoal or carbon filters mounted on the faucet which can bind a wide range of impurities like mercury and pesticides to a filter and away from your water. They can even reduce the taste and odor of chlorine. However, you'll need to replace them about once every three months to keep them in top working order. Most of these mounted water filters are easily installed without tools on standard faucets, but make sure it's the proper size for your faucet.
Those looking to avoid the look of a faucet mount will want a faucet filtration system with the filter stored under the sink. These require a little more work to install and usually involve a reverse osmosis filtering system, which can remove chlorine, pesticides, and more, often using a carbon filter as part of a multi-stage process. These also require replacement filters, but they need to be changed less frequently, every six months to two years, depending on the type.
To make the selection process easier, these are the best faucet water filters on Amazon. All of these top-rated water filters can help reduce the amount of pesticides and other chemicals in your drinking water, and leave it tasting great.