From Personal Blenders To Family-Sized Ones, These Are The Best NutriBullets On Amazon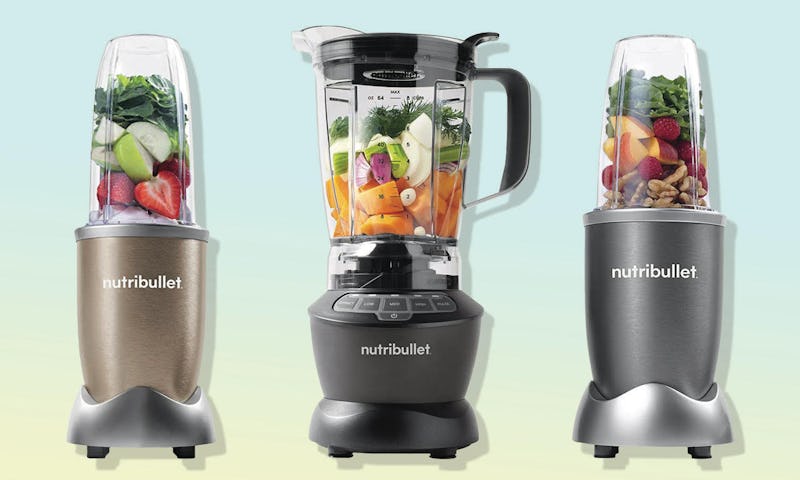 Bustle / Amazon
So you've decided you want a NutriBullet only to find there are actually many blenders to choose from in the NutriBullet family. To help you navigate the options, I've broken picks down by power and size so you can find the best NutriBullet for you.
Settle On A Size
The NutriBullet line has a range of blender sizes for different needs. For one or two smoothies at a time, a personal blender does the job while taking up minimal counter or storage space. Personal blenders usually blend smoothies in the same cup you'll drink them in, and they hold up to 24 to 32 ounces. A family-size blender might make more sense if you're regularly making smoothies for two or three more people, and maybe also want to use your blender for salsas, soups, or other recipes beyond smoothies. These larger models can hold up to 64 ounces.
Pick A Power Level
Though wattage is often marketed as being indicative of a blender's performance, it actually points to the energy consumed by the blender as it works. Instead, think of it like this: a blender with higher wattage doesn't need to work as hard to prepare a smoothie as one with lower wattage, which means it will probably have a longer lifespan. So if you plan to use your blender frequently, it may be worth investing in a NutriBullet with higher wattage (think: 900 watts and up).
In terms of performance, each of the picks below uses NutriBullet's unique extractor blade for tackling everything from frozen fruit to chia seeds.
With all this in mind, below are the best NutriBullets to consider. You'll even find a highly rated recipe book to complement your pick, should you need some smoothie inspiration.
We only recommend products we love and that we think you will, too. We may receive a portion of sales from products purchased from this article, which was written by our Commerce team.