These Delicious Organic Protein Powders Can Super Charge Your Next Smoothie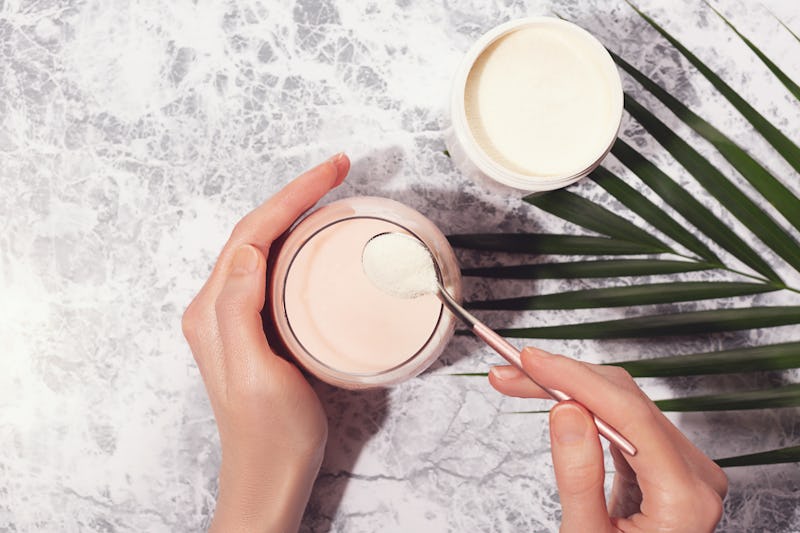 Shutterstock
Beyond scoping out the USDA's literal stamp of approval (you'll see the logo on the container), identifying the best organic protein powder largely comes down to choosing a powder that fits your individual nutritional needs. Most protein powders will have additives to boost nutritional value or improve taste, so read the list of ingredients to make sure you know what you're putting in your body. But before you get to the fine print, the first decision you'll need to make deciding whether you want a plant- or animal-based protein powder.
Animal- Vs. Plant-based Protein Powders:
Plant-based: Soy, pea, and hemp are some of the most common sources of protein in plant-based protein powders. Of those, soy is the only complete protein, meaning it contains all of the essential amino acids you need, but it's also a controversial ingredient. To get a plant-based complete-protein serving sans soy, you'll want to pick one that has multiple plant sources like pea and rice, which together create a complete protein.
If you're a picky eater, keep in mind that plant-based proteins can taste grassy. Vegans should also note that not all plant-based protein powders are completely free of animal products. Some plant-based do contain added ingredients like honey, so read the labels closely.
Animal-based: Whey and casein are the two types of animal-based protein powders. Both are high-quality, complete proteins and are derived from milk. But for most people, whey is going to be the more appealing option. It's cheaper, absorbs quicker, tastes better, and mixes easier which, makes it an all-around great option for a post-workout snack. When looking for an organic whey powder, your best bet is one from the milk protein of grass-fed cows.
One more note: In order to find out how much protein you should be getting per day, consider talking to a healthcare provider about your nutritional goals before making any big changes.
Scroll below to find out which one of the best organic protein powders you should scoop up for your next smoothie.
We only recommend products we love and that we think you will, too. We may receive a portion of sales from products purchased from this article, which was written by our Commerce team.