These Thin Ski Socks Won't Create Any Bulk In Your Boots When You Hit The Slopes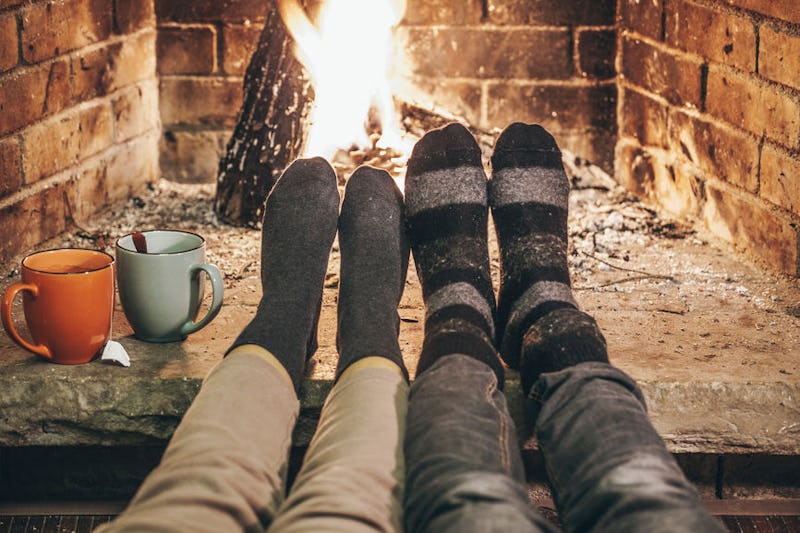 stocksy/BONNINSTUDIO
When it comes to skiing, wearing thin socks underneath your boots is the way to go. That's because the best thin ski socks don't skimp on warmth or comfort and, ultimately, create less bulk in your ski boots than their thicker counterparts.
When shopping for thin ski socks, you'll want to pay attention to the fabrics listed on the socks' label. Merino wool is a material often used in the best ski socks, as it provides both warmth and softness. Because wool is a warmer and more insulated fabric, 100 percent wool socks are often thicker to accommodate colder temperatures. Thinner ski socks feature wool blended with other fabrics — including acrylic, rayon, or spandex — and make for a better buy due to their elastic components that help them stay up as you ski. Plus, they're often machine washable.
Something else to note: Typically, ski socks will feature more padding along the shins than standard socks to protect that vulnerable part of the body during downhill skiing. For the most comfortable experience, look for socks that have this design as well as ones constructed with seamless toes to eliminate friction in your boots. And if you suffer from any muscle fatigue or shin splints, consider a pair of compression socks that help boost circulation.
To help your search, keep scrolling to check out the best thin ski socks. Then, stock up on even more ski gear including the best ski gloves and the best winter hats.